Welcome to I REMEMBER JFK
Welcome, Baby Boomers! We've all gotten a bit older, but we're still kids at heart. With that, may I present a host of memories from my childhood at I Remember JFK. If you are old enough to even barely remember that sad day In Dallas, my site will click with you. You'll find yourself saying over and over again 'I'd forgotten all about that!' So relive memories from the 60's and 70's (and a few from the 50's, thanks to our older commenters) at the best Baby Boomer nostalgia site on the web!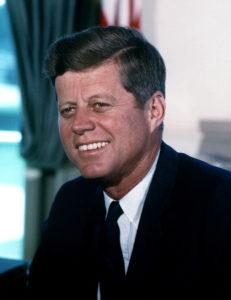 So, what constitutes a Baby Boomer? Opinions vary, but most agree that a Boomer was born between 1946 and the start of the Vietnam War (about 1963). I, however, submit that a real Boomer is defined by the recollection of a world-changing event: JFK's assassination.
Now I don't mean to slight those who weren't around in 1963. But snapshot memory events being what they are, many who were small children then can recall the shooting when they can't remember anything else from that time.
That's the case with me, Ron Enderland. I remember Mom letting out a scream as I played with my toys in front of the television. She was watching her favorite soap, when it was interrupted by the news bulletin. I asked her what was wrong, and she sobbed and said "They've shot the President!"
With that, a memory was indelibly stamped into a four-year-old's brain.
This site is NOT about JFK's death. There are plenty of conspiracy theorists out there to fan those flames. Instead, it is intended to be a pleasant diversion for those who grew up in the 60's and the 70's. Feel free to comment on my thoughts and research, as well as sharing your own memories.
To get started, check out Books, Magazines, Comics | Boomer Reviews | Cars | Clothing, Shoes, Etc. | Food and Drink | Gadgets | Movies | Music | People | Places | School | The Home | The News | Things that Disappeared When You Weren't Looking | Toys | or TV.
Ron Enderland, Webmaster
See your site linked here
The Bald Guy's IT Consulting
Terrel Shields, Certified General Appraiser
Miami, Oklahoma History
Prairie Creek Country Club
Ranch on the Rock Grass Fed Beef