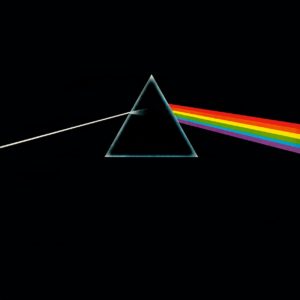 In 1965, a British guitarist named Syd Barrett formed a little band that eventually came to be called Pink Floyd. Barrett, who would become a poster child for the bad effects of LSD, eventually lost touch with reality itself and was dismissed from the group.
The remaining members used ponderous walls of sound and massive amounts of production to produce albums that nearly collapsed under the weight of their own self-importance. But the albums were great despite themselves. Animals, Wish You Were Here, The Wall, and The Final Cut are all four- or five-star Rolling Stone rated, the only critical ratings I pay any attention to.
But it was their 1973 release of their magnum opus that put Pink Floyd on the map as THE progressive rock group.
Dark Side of the Moon, commonly referred to as DSOTM, was an amazing release that set a new standard for what would afterward define a concept album.
Where do you begin in writing about such an amazing piece of work?
First of all, it was produced by the band itself, all four members being credited. Quite an accomplishment it was to produce an album that is among the most perfectly produced ever. Alan Parsons oversaw the engineering.
The album also payed tribute to Syd Barrett, as Brain Damage described his psychosis. Shine On You Crazy Diamond, from Wish You Were Here, likewise payed homage to the group's founder.
The songs segued seamlessly throughout each side. Voices were interspliced among the music that were provided by roadies, road managers, a member of Paul McCartney's band, and an Irish doorman, among others.
And the songs! Pink Floyd hit a creative peak here, although they had more great albums to come. But the soaring vocals of The Great Gig in the Sky still raise goosebumps on me after at least a thousand listenings. Time is one of those songs that must be played loudly, or not at all. Us and Them is a dreamy voyage punctuated by two sax solos that soar.
And, for better or worse, Money introduced a barnyard term to mainstream radio.
The album spent 741 consecutive weeks in Billboards Top 100. That's 14 years. That record will likely never be broken.
And, shades of Paul McCartney's death rumors, it even spawned a "connection" to The Wizard of Oz. It seems that if you begin playing the album after the MGM Lion's third roar, the music meshes perfectly with the action of the film. The group denied any involvement in this coincidence.
DSOTM is one of those rare albums that sounds better with each playing. And if you remember JFK, you can remember when it began its 14-year ride on the charts.