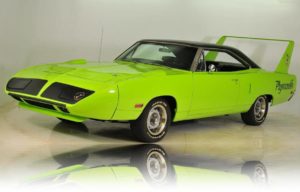 The year was 1970. The place was sleepy Bentonville, Arkansas, population 5,000 or so. I must have been sitting in our 1965 Chevy pickup which my father had purchased shortly after moving us from our house on a city block in Miami, Oklahoma to a 250-acre farm located 15 miles from Bentonville.
Ten years old, I had recently started paying attention to fast cars, thanks to getting into the brand-new phenomenon known as Mattel Hot Wheels. Thus, I was able to spot and differentiate the subtle differences between a Camaro and a Firebird, or the more obvious ones between a Barracuda and a Cougar.
But that day, so long ago, my ten-year-old jaw dropped. There, cruising up highway 71 in front of a big empty field that would one day hold a Wal-Mart Supercenter, was an unearthly-looking wonderful lime-green Plymouth Superbird.
There were a plethora of fast cars produced during Detroit's muscle car era. Many of them concealed their horsepower under the ruse of a standard-looking vehicle, the better to avoid frequent stops by the law. But then there was the Superbird: a hedonistic thumb to the nose at conventionality. What an amazing machine for a ten-year-old kid to see tooling through the streets of a small town.
The Superbird came about because of Richard Petty and NASCAR. In 1970, NASCAR vehicles were basically souped-up versions of cars you could buy from your local dealers. Petty had begun driving a Road Runner with a streamlined nose and a big spoiler that aided greatly in keeping the rear wheels on the pavement.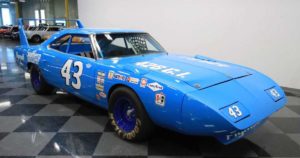 NASCAR's rule was that at least one car be built for each manufacturer's dealership. That meant that 1,920 Superbirds were created in 1970. And one resident of little Bentonville, Arkansas purchased one. I saw that car many times over the next year or so. Seriously cool stuff.
Petty tore up the track with the Superbird, so much so that NASCAR changed their rules. Aerodynamically enhanced cars like the Superbird would have to run on smaller engines than Petty's 426 Hemi he used in 1970. They just weren't fair to the other boxier cars.
1970 was the only year that the Superbird was built. It was available in three different engine configurations: a 440 with a four-barrel carb, the same engine with three two-barrel carbs, or the ultimate: the same 426 Hemi that Petty raced.
The mystified effect that the car had on me wasn't shared by the general public. It was considered ugly and overly extreme by the masses. The aerodynamic enhancements were of no use during quarter-mile runs. In fact, their added weight caused Superbirds to get smoked by conventional Road Runners on the strip.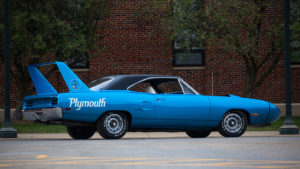 But the nosecone and spoiler weren't meant for pedestrian short drag races. At 90 MPH, they cut drag, and also kept the car solidly attached to the road. At 150 MPH, it would have been difficult to control the machine without them.
Yes, the car would easily hit 150 MPH right off of the dealer's lot. Its estimated stock maximum speed was 180. Holy crap.
This was the Detroit of the freewheeling days before energy crises, oil embargoes, and gas that cost more than 40 cents a gallon.
The price of the car was a reasonable $4,000. That compared favorably to other hot muscle cars of the era. But the public just couldn't get past the look. Thus, many sat unsold, and were even converted to more conventional-looking Road Runners in order to get them off the lots.
The result is that today, original Superbirds can easily fetch high six-figure prices. Less than a thousand Hemi-equipped models were sold, obviously they reign as king. But any Superbird is worth gold.
So that anonymous Superbird owner I spotted so many years ago and I have something in common: we both appreciate the unconventional.