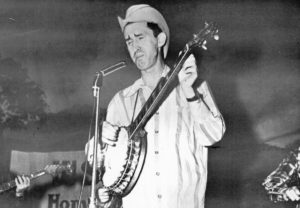 Life in Anneville, Kentucky, located in the backwoods of the backwoods, was not easy in 1915, the year David Akeman was born. His family were farmers who barely scraped by. Entertainment had to be provided by the local folks themselves. Thus arose bluegrass music, which was prolific in the rural areas of Tennessee and Kentucky.
David took a shine to music. He came by it naturally. His parents were musicians as well. When he was seven, he took an old shoebox and some thread his mom gave him and created his first instrument. Five years later, he traded two of his prize bantam chickens to a friend for his first real banjo.
Akeman loved playing and entertaining, and was soon making the circuit of local honky-tonks and playing at dances and such. He was having a great time, but the Depression was on, and he needed to eat. The pittances he earned at gigs weren't cutting it.
So he got a government job, building roads for the Civilian Conservation Corps. But he yearned to be a professional musician.
One day, established local musical star Asa Martin held a contest, looking for new talent for his own band. Akeman's self-taught banjo pickin' got him a gig with Martin's band for enough money to live on. Sweet!
One night, Asa stumbled over his name when introducing him. So he just improvised "String Beans." The name fit the tall, lanky performer perfectly, and he became known as Stringbean from then on.
The name also made it easy for him to showcase his comedic talents. Soon, Stringbean was known as the slightly goofy banjo-picking wonder on Asa'a band.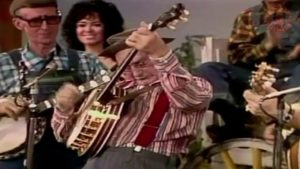 Stringbean rode Asa'a coattails as far as they would go, but soon ventured out with other groups, and even played a little semi-pro baseball. He caught the attention of another part-time ball player, one Bill Monroe.
The King of bluegrass soon had Stringbean playing with his prestigious group, and he enjoyed three years of touring and performing with them. Then, Bill decided it was time for a change, and replaced him with another banjo player by the name of Earl Scruggs.
Stringbean married his lifelong bride, Estelle, in 1945, and joined up with another banjo picker with a knack for humor by the name of Louis Jones. You may know him better as Grandpa.
Stringbean found himself a regular performer on the biggest country music stage in the world, the Grand Ole Opry. he would appear alongside Grandpa Jones as well as other gigs with Lew Childre. He had thoroughly adopted the Stringbean identity by then, wearing a long nightshirt with short pants and that goofy hat.
He played the Opry throughout the 50's and 60's. Then, in 1969, he and his buddy Grandpa were approached about appearing as regulars for a summer replacement for the Smothers Brothers Comedy Hour. The show's Canadian producers were looking for a rural answer to Rowan and Martin's Laugh-In. They were fans of the Opry, and had signed several of its long-time stars.
Hee Haw garnered decent ratings, but CBS was in the middle of its infamous "rural purge," dumping shows like The Beverly Hillbillies, Green Acres, and Mayberry R.F.D. in an effort to go after a younger demographic. But the show's producers put a syndication deal together, and it was soon appearing in rural areas like New York, Los Angeles, and, of course, small southern communities.
The money was flowing rapidly into the Akeman household by now. Stringbean, like many Depression survivors, didn't trust banks. He also didn't like to appear affluent. So he and Estelle lived in a modest little cabin in the Kentucky woods (though he did spring for a Cadillac).
On the Saturday night of November 10, 1973, Stringbean and Estelle returned from an evening out. They were accosted by two 23-year-olds in their home, cousins John A. Brown and Marvin Douglas Brown. The burglars shot them dead. The next morning, neighbor Grandpa Jones found the bodies.
The murderers figured Stringbean had money hidden on site. They left with a chain saw and some guns, but no cash. 23 years later, $20,000 in decomposed cash was found behind a brick above the fireplace.
Stringbean was one of my favorite Hee Haw performers. Here's to his memory.