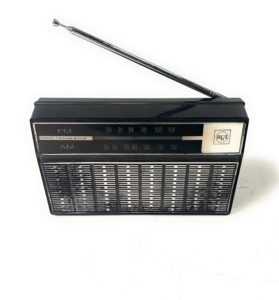 A summer evening in my home would have a few constants. One, it would be around 80 degrees in the living room. Either the temperature would be obtained via open windows, or the swamp cooler would be turned on to get the temperature to the magical digit.
If the room was 80 degrees, it was perfectly comfortable. If you didn't think so, you were invited to step outside and experience the outside temperature, then come back inside. Now doesn't that feel better?
Another constant would be that a radio would be on somewhere in the house with the voices of Harry Caray and Jack Buck describing play-by-play action of the St. Louis Cardinals.
It's no wonder that I became a baseball fan at an early age. Harry Caray and Jack Buck! Two broadcasters who would land in the Hall of Fame! What magic they wove into each play. And it was all deeply implanted into the brain of an eight-year-old kid.
In the fall of 1968, I became a lifelong St. Louis cardinals fan, thanks to the riveting play-by-play calling of messrs. Buck and Caray. The Redbirds lost to Detroit that year in seven hard-fought games, but the next year I kept up with every game that I could.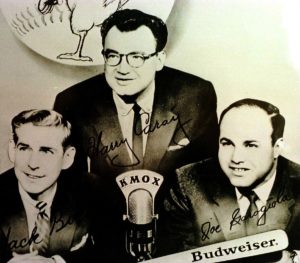 Now I realize that not every Boomer reading this is a Cardinal fan. But I'd be willing to wager that, especially if your dad was a fan, you grew up with familiar baseball announcers on the AM radio.
You New Yawkers had Mel Allen describing the Yanks, and Ralph Kiner calling the Amazin' Mets. The Dodger fans all over the west listened to Vin Scully, still going strong today. Vince Lloyd was calling Cubs games when St. Louis still employed Harry Caray. Those blasted 1968 Tigers had Ernie Harwell calling every Denny McClain strikeout.
Baseball truly was the national pastime in those days. NBC's Game of the Week featured Curt Gowdy and Tony Kubek every Saturday afternoon, and included games featuring both competitive and non-competitive teams. We still watched them.
It seems like Fox and ESPN are perennially obsessed with two teams: Boston and the Yanks. I can't remember the last time they played on Saturday and Sunday and the contests weren't featured front and center by both networks.
Additionally, baseball, the most traditional of games, has gone some pretty strange directions. For instance, there was the designated hitter "experiment" that took place in 1973. Somehow, it became a permanent part of a game that was perfectly fine for the previous ninety-something years with a pitcher batting for himself. Today, it makes for circus-style swing-at-everything American League baseball, as opposed to the much more strategic NL style of play that keeps a close eye on when a pitcher is up to bat, as far as personnel changes are concerned.
I'm not a baseball fan anymore. I do watch the Cardinals, but listening to their games on KMOX is no longer possible. The organization figured out that they could make more money selling broadcast rights to a low-powered St. Louis AM station, and thereby forcing many fans to purchase live play-by-play streaming via MLB.com.
Alas, it's just another of baseball's many instances of shooting itself in the foot. The game is marked by tradition. But each bottom-line enhancing change costs them more and more traditionalist fans. And baseball will never become football.
I wish it would quit trying.