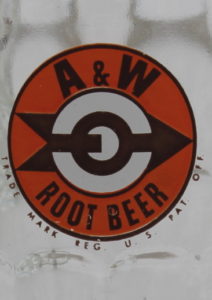 It's Tuesday night. Mom had a bad day teaching school. She came home and went to bed. Dad's just walked in hungry and realizes that the kitchen is idle. What happens next?
We wake mom up, load everyone into the Plymouth, and head for the A&W drive-in!
In the mid 1960's it seemed that every town with at least 5000 residents had an A&W drive-in. The chain was an intriguing anomaly: the only thing they all had in common was the fact that they sold the most delicious root beer on the planet. Their food menus were strictly up to each franchise!
I guess that wasn't so strange. Franchise restaurants weren't the commonplace sight back then that they are now. The business was still busy reinventing itself.
It's hard to imagine, but McDonald's was a rare sight in small town America back then. So were all of the other chains we see in nearly every town today.
But you were always close to an A&W. And while the food might vary in quality, you knew you had something heavenly to wash it down with.
As A&W's ownership passed from one corporate giant to another, its identity changed. Many drive-ins either closed or dropped their affiliation during this metamorphosis. In 1978, a common menu was adopted for its franchisees. Also, A&W became officially known as a "restaurant," not a drive-in. Carhop service was quite rare by this time.
If you are fortunate enough to have a local A&W, you probably visit it regularly to savor the taste of that unique mead brewed with a secret recipe. But it's highly unlikely you get it carried to your car. However, if you remember JFK, I'll bet you have fond memories of a local A&W drive-in.