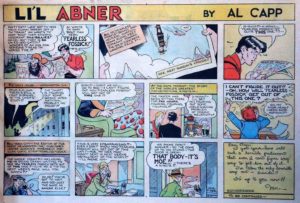 It's amazing the changes in the comics pages over the years. The hottest comics out there didn't exist in our childhood. And, as cartoonists inevitably age, strips either continue with new authorship, or die with the creator.
Peanuts had such a wealth of material, and it was material that had no connection with the world's events when it was new, that it continues to run as a very successful daily despite the death of Charles Schulz. On the other hand, strips like the depicted Lil Abner were very in tune politically, so even though it is available today as repeats, it's not a big hit.
I was always a huge fan of the comics. Even today, it's the first part of the Sunday Paper that I read.
I will now try to recreate the Sunday funnies that I read circa 1968.
On the front cover are some familiar faces. Blondie, Snuffy Smith, and Beetle Bailey. Mort Walker is still drawing the venerable soldier, but the other two have been passed on to successors.
Opening to page two, there's Freckles and His Friends. It was popular in the 60's, sort of an alternate Archie.
Next down is Our Boarding House, otherwise known as Major Hoople. The perennially angry fez-wearing senior citizen's favorite saying was "Fap!"
Then there was Pogo. I never dug Pogo, its humor was over an eight-year-old kid's head.
Dondi was a daily strip about an orphan. I don't remember seeing it in Sunday's paper.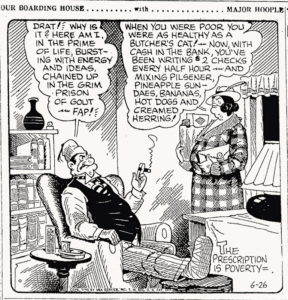 They'll Do It Every Time taught us a history lesson in a whimsical way. It was generally a large single panel with lots going on. You could have fun learning about real events from the past with Hatlo's History.
Out Our Way was a single panel strip on weekdays, I don't remember what its Sunday incarnation was. It had two looks that varied from day to day, I guess from different artists who took turns, I'm not sure. It was adventures within a family called the Willets.
B.C. is another that has been around since the 60's, and Johnny Hart shows no sign of slowing down. His Wizard of Id that he co-writes continues to be widely popular.
Little Orphan Annie and Dick Tracy were hugely popular old time comics that passed on to new artists, but who failed to keep the mystique going. I haven't seen either of them in years.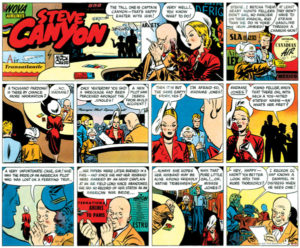 Many serial comics were featured in the Sunday funnies of the 60's. Steve Canyon, Prince Valiant, Terry and the Pirates, Rex Morgan, M.D., Alley Oop, Gasoline Alley, and Joe Palooka were some I remember.
There were also multi-activity strips. Today's Slylock Fox was preceded by Cappy Dick, as well as a couple of others that escape my memory at the moment. If I think of them, I'll get them added.
Priscilla's Pop, Nancy, and the strangely mouthless Henry close out the back page.
We have some brilliant cartoonists today. IMHO, there is no humor as cutting edge as Dilbert's Scott Adams. Pearls Before Swine rocks, as does Overboard. And geniuses who shined for but a short time, Gary Larson and Bill Watterson, set new standards of greatness.
But I still have fond memories of those glorious Tulsa World Sunday funnies and those long vanished strips.