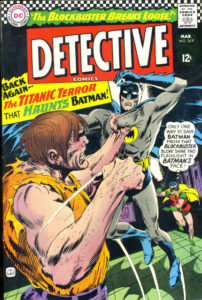 This was, by far, IMHO, the most beautiful comic book design in history.
I was a comic book nut growing up. I loved them all (except those yucky romance ones, of course). But the books that leapt off of the rack into my seven-year-old hands were these gorgeous DC comics with that distinctive checkerboard pattern at the top.
If you walk into my house, you'll see that same checkerboard pattern in my floor. It's timeless, classic, and beautiful.
I didn't buy many issues in the 60's. They cost twelve cents, and that would mean that I would have to go an entire day without candy. My allowance was two nickels a day. Do the math. It was easier to read them in the store, the tolerant owner of Moonwink Grocery allowing it.
Anyhow, in the mid 1970's, there was a used book store that was open in the nearby community of Rogers, Arkansas. It was a gold mine for me, still into comics in my early-to-mid teen years. He had an incredible stash of comics dating to the late 50's for TEN CENTS APIECE!
I bought every checker-topped DC comic he had. Most showed wear, but I had a Justice League of America in pristine shape.
The comics were stored at Mom and Dad's house while I moved to California at the age of 21. When I eventually returned to the area and bought my own home in 1985, they gave them back to me.
However, I was now too busy to pay them any mind. In fact, I unloaded the entire lot at a yard sale not too long afterwards.
I like to think that they are receiving loving care at the hands of collectors. Whatever, they will live forever in my memories.