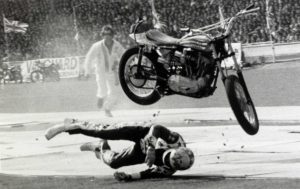 Knievel's hard work had finally earned him some attention. When he was well enough to start jumping again, the crowds and the financial rewards were bigger. He had taken to adding another car to each jump, and was up to sixteen when his luck dipped again on July 28, 1967 in Graham, Washington. After recovering from a severe concussion, he tried again the next month at the same place. Unfortunately, it was the same result. This time he broke a wrist, a knee, and two ribs.
Knievel finally made it onto television as a guest on the Joey Bishop Show later that same year. As his fame grew, so did the sizes of the crowds who payed to see his exploits.
Knievel kept jumping higher and longer, and announced his intention of jumping over the Grand Canyon.
In 1971, he sold over 100,000 tickets to back-to-back exhibitions at the Astrodome. Later, ABC offered to broadcast his jumps on Wide World of Sports, and that's where most of us Boomers were exposed to Evel Knievel. His first WWoS jump was on November 11, 1973, successfully clearing 50 stacked cars at the LA Coliseum.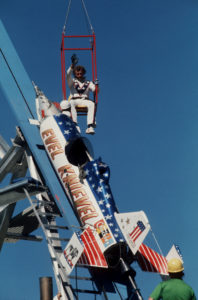 Despite his more and more spectacular jumps, the crowds clamored for the Grand canyon leap. However, the US government refused to allow such a thing to take place on the publicly-owned site. So Knievel opted to find private property somewhere that would make for an equally spectacular show.
On a flight back from one of his shows, he flew over the Snake River. He eventually leased 300 acres near Twin Falls and commenced setting up a launching ramp.
The jump was scheduled for Labor Day 1972, but test launches of the steam-powered motorcycle prototypes had them landing short of the far canyon rim.
Knievel finally commanded the tests to be stopped, and set the actual jump for September 8, 1974.
ABC was unwilling to shell out the bucks Knievel wanted for live broadcast, so the event was seen in movie theaters that had contracted to receive closed-circuit feeds of the jump.
The rocket-powered bike took off and seemed to have plenty of power to reach the other side. Unfortunately, bolts were sheared off due the massive acceleration and the parachute deployed early. Fortunately for Knievel, it wasn't ripped apart by the still-accelerating rocket or he would surely have plunged to his death. Instead, the rocket was gently lowered into the canyon where it landed in the edge of the water, another lucky break. He could have drowned had it hit deep water.
Most of us saw it a week later on WWoS.
Knievel eventually retired to his Florida home. His youthful exploits taxed his health in his later years. He contracted hepatitis C from a blood transfusion (given after a crash) and ended up getting a liver transplant. Earlier this year (on April Fool's Day), he announced that he had found religion. On November 30, his worn out, beaten up body finally gave out at the age of 69.
Here's to Evel Knievel, one of our Baby Boomer memories who will be forever known as the king of the daredevils.