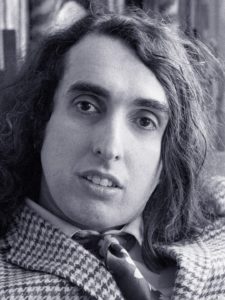 The date he was born was April 12, 1932. His parents were a Lebanese man and a Jewish woman. When he was five years old, his father brought home an old wind-up gramophone and a record of Henry Burr singing "Beautiful Ohio." Later, more old records were obtained. Young Herbert Khaury fell in love with the old songs, stretching back to the early 20th century. He soon became an authority on early popular music that made it onto 78's.
Herbert obtained a ukulele and learned to play it. He would spend hours singing the old refrains in his natural mid-baritone voice. By the mid 1950's, he was playing in small clubs throughout New York. Sometimes the crowds would laugh at him. Sometimes they would laugh WITH him. And sometimes, he would simply bowl them over with his unconventional appearance and his ukulele.
In 1968, a rather strange film was released called You Are What You Eat. The movie was a celebration of the Flower Power generation and their music, and featured performances by the likes of David Crosby, Frank Zappa, Barry McGuire, and a narrator/performer who had, in 1962, begun calling himself Tiny Tim. One particularly memorable performance involved Tiny Tim and a female singer performing "I Got You Babe," with Tim singing Cher's lines in falsetto, Eleanor Barooshian singing Sonny's lines in baritone.
The film was spotted by the producers of Rowan and Martin's Laugh-In, who booked Tiny Tim for an appearance.
He was an absolute sensation. TV audiences had never seen anything like the gentle long-haired singer with the pasty white makeup and the voice that went places that a voice simply wasn't supposed to go. I hesitate to post YouTube links, the way they get yanked for various silly copyright objections, but look for footage of Laugh-In appearances by Mr. Tim.
Again, many in the audience laughed at him, but many others were taken by his unconventional talent. And sadly, not many of them delved deeper to discover the encyclopedic knowledge of 20th century popular music that the man possessed.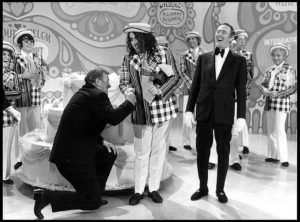 The Laugh-In appearances led to more on the likes of Sullivan's, Jackie Gleason's, and Carson's shows. Comedians feasted on Tiny Tim and spread his fame even farther. By 1969, he was one of the most recognizable performers the world had ever heard of. Far from a one-shot wonder, his popularity grew as the 60's progressed.
He released three albums during the decade, which sold modestly well. His single "Tiptoe Through the Tulips" sold 200,000 copies. In 1969, he announced that he was getting married to his girlfriend, Miss Vicki, on the Tonight Show.
On December 12th of that year, 40 million viewers tuned in to hear the couple recite their self-written vows to each other.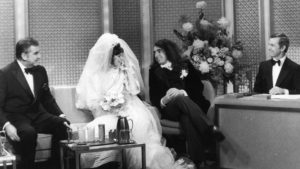 The couple had a daughter, Tulip, before their marriage collapsed eight years later. One Laugh-In gag I recall fondly was that "they are planning on having three children, one of each."
The 1970's saw the public fascination with Tiny Tim waning. However, he had one triumphant final appearance that had him on top of the world. It was at the Isle of Wight Music festival in August of 1970. Some 600,000 people went crazy when, at the climax of his set, he sang "There'll Always Be an England" through a megaphone, Rudy Vallee-style.
As the decade wore on, he continued to grab whatever gigs he could find. He had good success in Vegas. Alas, he was as naive as his stage persona, and he didn't end up making a whole lot of money from his shows. In 1994, he even joined a circus for a few months. In 1995, his profile once again began to be raised in the public perception, with appearances on Howard Stern's radio show and Late Night with Conan O'Brien. He also landed a role in Stern's movie Private Parts.
In November, 1996, while playing "Tiptoe Through the Tulips" at an appearance at the Women's Club of Minneapolis, he suffered a heart attack on stage and was later pronounced dead at the hospital.
Thus ended the tale of a sweet, naive individual who achieved far more than fifteen minutes of fame, who greatly enjoyed what he did, and who left a legacy of doing your own thing, no matter how unorthodox.