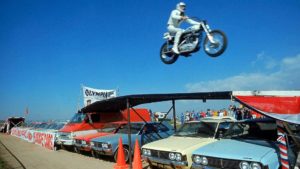 On November 30, 2007, Robert Craig "Evel" Knievel, Jr. passed away. His death at an advanced age would have been a surprise to many television viewers of ABC's Wide World of Sports in the early 70's. They were convinced he would die at the end of one of his stunts gone awry.
He was born in Butte, Montana in 1938. At the age of eight, he saw a Joie Chitwood Auto Daredevil Show. He was entranced by the performance, and decided at an early age that he wanted to make a living being a daredevil himself. Knievel became a teenager prone to getting in trouble. Dropping out of high school after his sophomore year, he went to work at the Anaconda Mining Company. Clowning around while driving an earth mover, he took down the power line that fed the city of Butte. The town was without power for several hours.
In 1956, a police chase caused him to crash his motorcycle. Knievel was hauled off to jail and thrown in a cell next to another local neer-do-well, William "Awful" Knofel. Legend has it that the jailer came up with the nickname "Evil" Knievel on the spot.
Knievel liked the nickname, but spelled it "Evel" instead.
Knievel had his hand in several activities, including rodeo, ski jumping, minor-league hockey, and his own hunting guide service that got him in trouble for his taking his clients to land that was part of Yellowstone Park.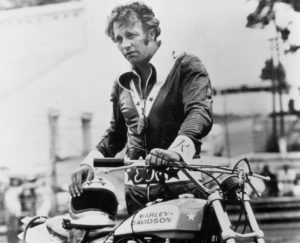 Knievel first tried motorcycle jumping for dough about 1965. Putting together his own exhibition, he rode a few wheelies before a modest crowd, then made a twenty foot jump over two mountain lions and a big box full of rattlesnakes. His rear wheel caught the edge of the snake box, but he still landed successfully.
He loved the concept of being a motorcycle daredevil, but saw that he needed to hire more acts. He also needed a sponsor. Bobby Blair, a Norton motorcycle dealer, came on board and supplied bikes.
The first traveling show for Evil Knievel and His Motorcycle Daredevils was in Indio, California in January 1966. It was a big success, and he soon had other exhibitions booked. The next one, in February of the same year at Barstow, caused the end of the traveling troupe. Knievel was to jump over a speeding motorcycle coming straight at him. Mistiming his leap, the bike smashed into his groin (OUCH!) and hurled him fifteen feet into the air. He was hospitalized and had to quit performing while recovering. His traveling show disbanded.
When he was well enough to perform again, he began traveling solo, jumping over things. There were other motorcycle daredevils out there doing the same thing, so to separate himself from the competition, Knievel began jumping over cars.
At each performance, more cars would be added. He had been successfully jumping since his Barstow incident, but his luck ran out on June 19, 1966, in Missoula, Montana. An attempted jump over twelve cars and a cargo van. He came up just a bit short and broke his arm and several ribs. Back to the hospital.
Tomorrow, tune in for Evel Knievel's story, part 2.