I had a close relationship with our phonograph records when I was a kid. Playing them on the portable player (it had a beautiful red plaid pattern on the outside) made me feel very grown up. It meant my parents and older brothers trusted me to listen to their records without damaging them. And as far as I know, I held up my end of the bargain.
There was a lot of fun to be had with records. Sure, you could listen to them at their intended speed. But things really rocked when you played them at different speeds.
We had no shortage of records at my house. I had a few kid records that had been handed down, Pinocchio and the like. My older brother had some 45's. Mom had some 78's from the 40's. And we also had a few 33 1/3 albums.
I developed an appreciation for some music at an early age thanks to those old disks. It was really pretty eclectic. For instance, mom had an Ink Spots album that I loved because the cover had fake spots of ink superimposed over photos of the group. It was funky stuff, and I have a copy of the Best of the Ink Spots (in digital format) to this very day.
My older brother loved 60's rock and roll, and thanks to his records, so did I. In fact, I fell in love with an old blues song circa 1967 that caused my parents much distress. It was House of the Rising Sun, by the Animals. Dad wasn't crazy about his seven-year-old kid belting out a tune about a New Orleans bordello. BTW, that is still one of my favorite tunes.
I also recall Mrs. Brown You've Got a Lovely Daughter (Herman's Hermits), I'm Telling You Now (Freddie and the Dreamers) and one of the more obscure Beatles tunes, Do You Want to Know a Secret.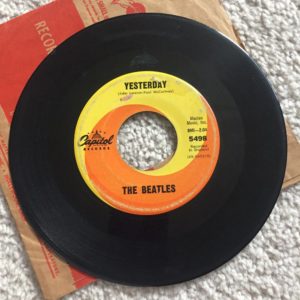 I REALLY listened to those records. I mean both sides. A seven-year-old kid has no concept of an A and B side. I loved the flip sides, and remember many of them. For instance, Thank You Girl was the reverse of the Beatles 45.
But the fun really started when you got a few friends together in a room and played a 45 at 78. We all danced as fast as we could! Then we might play a 78 at 33 1/3. We would drag ourselves around the room in slow motion to the molasses-like songs.
Sometimes we couldn't find any of those 45 inserts. But you could still carefully place a 45 in the exact center of the platter. But it was more fun to offset it deliberately. It made some pretty weird effects on the music.
My kids grew up listening to CD's. Our grandkids probably know music as something you copy to and from flash drives and iPods. But we Boomers recall when you could have lots of fun with records. Or, you could just listen to them. Either way, both activities were pretty cool.