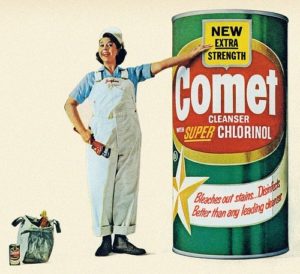 We Boomer kids watched a bunch of television. Familiar faces soon placed themselves permanently in our memory banks, requiring only a slight nudge to be brought back to life in our imaginations. Today, we nudge back into existence a cute, perky, helpful female plumber named Josephine.
Josephine the plumber was portrayed by actress Jane Withers. She was born in 1926 in Atlanta. The daughter of an actress, she was a precocious talent who made it onto a local Atlanta radio show as "Dixie's Dainty Dewdrop." She would sing and do impressions of adult celebrities. Her parents soon moved to Hollywood, and she was able to get work as a child actress doing bit parts.
In 1934, she played obnoxious Joy Smythe in Shirley Temple's film Bright Eyes. It was the break she needed to showcase her talent. Fox signed her to a long-term contract.
A long string of films followed, and Jane was generally cast as a more mischievous version of Shirley Temple, with the sugary sweetness cut in half. It worked, and she was a Top 10 box office draw for three straight years, 1937-39. She ranked her own "name" costars, like Gene Autry and the Ritz Brothers.
She kept making movies as a teenager in the 1940's, and seemed capable of breaking out of the child star stereotype that so few were able to overcome. Instead, she took a hiatus when she was married in 1947.
Her break ended with a supporting role in the 1956 blockbuster Giant. She became fast friends with James Dean, who trusted her to wash his favorite cowboy shirt. He left it with her to launder when he took off on his Porsche ride to immortality. She still has it.
Jane went to work doing guest bits on TV shows after that. Advertising legend Milton Gossett approached her with the idea of portraying a Rosie-the-Riveter knockoff called Josephine the Plumber in a series of ads for Comet cleanser. I was unable to pinpoint the exact date in the 60's when the commercials began, perhaps a reader can help? Anyhow, the ads were a hit with the public, and, more importantly to Procter and Gamble, they sold a slew of Comet.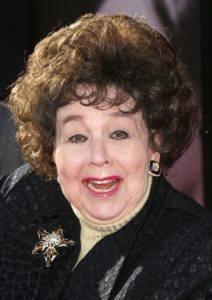 Josephine the plumber was one of the most recognizable faces on 1960's and 1970's television screens. Always in a good mood, ready to help perturbed housewives, and full of energy, she became a cultural icon. And Withers even overcame the obvious stereotyping that committing to such a role brings with it.
After P&G decided to end Josephine's run, she appeared in guest shots on several TV series, including The Love Boat, Hart to Hart, and others.
In 1996, she was chosen to finish voice-overs for Mary Wickes, who passed away before completion of Disney's animated The Hunchback of Notre Dame. When the sequel came out in 2002, she kept the role of Laverne.
The real life Jane Withers is as perky and affectuous as Josephine herself. Now 88, she is a regular face at Hollywood functions, and boasts one of the largest doll collections in the world. (update: still with us in 2019!)
So here's to Jane Withers, the actress, and Josephine the Plumber, a familiar face we grew up with.