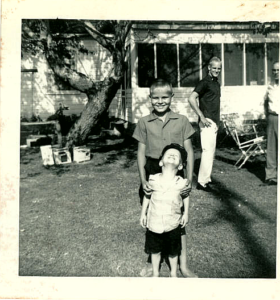 Today's reminiscence is one that is shared by all generations, but I'm going to wax poetic on my own particular experience.
Our little tract home in Miami, Oklahoma seems cramped by today's standards. It was three bedrooms and one bath. My eldest brother had his own room, while the middle and myself shared another.
It was a cozy, wonderful place to spend the first eight years of my life.
But one day, about 1965, a remarkable transformation took place overnight. My oldest brother headed off to college, and my other brother took over his room.
I had a room all to myself!
Indeed, it was a very liberating experience for all three siblings. One on his own for the first time, and two others with their own private hideaways.
One memory I vividly recall was Terry asking me if I wanted a huge, ugly No Trespassing sign that someone had liberated from a government facility somewhere. It was attached to his bedroom door, and apparently mom was eager to see it go, because she hauled it to the trash before I could answer "Heck yes!"
My room became sort of a bedroom/den, as the television was hauled in there. A swamp cooler was also installed, So needless to say, "my" room was a very popular place on hot summer days and nights.
I remember sitting in that room watching that television when Martin Luther King's assassination hit the news. I had heard of him, but wasn't sure why anybody would want to kill a man who kept saying we should have peace and stop fighting among ourselves.
I guess I still don't get it.
I loved having the TV in there because my mom might stay up until 10:00 watching it, and I would fall asleep listening to it. That was WAY past my bedtime, BTW.
Later, my brother Bill joined the Navy, and I had the whole house to myself. Headsome times, indeed.
Today, my beautiful bride of nearly twenty-five years and I have a 1500 square foot home to ourselves. I gained an office when my daughter left two years ago, and now we have an unused bedroom that was formerly inhabited by her younger brother, now on his own out in California.
This is the stuff that fills a middle-aged Boomer's head with all sort of conflicting emotions.
I guess I'd better get used to it.