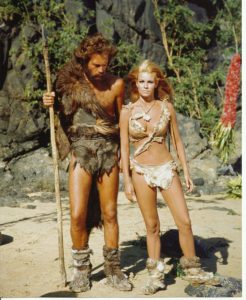 Every generation has its sex symbols. Our grandfathers swooned over Clara Bow. Our fathers were gaga about Betty Grable. Our big brothers got saucer-eyed over Marilyn Monroe. And we Boomer kids felt the first stirring of our hormones over Raquel Welch.
Raquel (that is her real name, BTW) was born in Chicago in 1940. Fresh out of high school in the late 50's, she was living in San Diego and had landed a gig on the local television station as a weather girl. She was using her maiden name of Tejada back then.
In 1959, she married James Welch. They had two Boomer kids of their own, Damon and Tahnee. Tahnee, BTW, is an actress, and a lookalike of her mom. You may remember her as the beautiful Kitty in Cocoon.
The marriage was pretty much over by 1961, and in 1964 or 65 (sources vary), they were divorced.
In the meantime, she was pursuing an acting career. She landed guest starring roles on Bewitched, McHale's Navy, and The Virginian.
She also made one beach party movie, A Swingin' Summer, in 1965. But it was in a movie the next year that she would be permanently etched into the memory banks of the nation's male population.
One Million Years B.C. was actually a remake of a 1940 film starring Victor Mature and Lon Chaney, Jr. It was a colorful spectacular featuring claymation dinosaurs chasing helpless humans all over the place. One of those humans was bikini-clad Raquel Welch. A still shot from the film became a poster that adorned the walls of millions of Boomer males' bedrooms.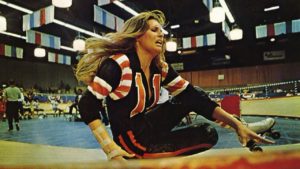 The movie made her a star. Unfortunately, she never managed to click in any more blockbuster flicks like she should have. The next few films she appeared in, with one dubious exception, were forgettable.
She caused a bit of a stir with her love scenes with Jim Brown in 1969's 100 Rifles. As liberating as the 60's were, it was still a bit shocking for the public to see an interracial romance on the big screen.
The next year, she took on a challenging role that she felt would make the public take her more seriously as an actress. The movie was Myra Breckinridge, an X-rated adaptation of a Gore Vidal novel. She played the transsexual Myra in what turned out to be one of Hollywood's most monumental flops. The infamous film is frequently mentioned in the same breath with Ishtar and Heaven's Gate as major Tinsel Town mistakes.
Two years later, in 1972, she starred in Kansas City Bomber as a roller derby competitor. Despite good reviews, it too was a box office disappointment. The next year she won a Golden Globe for her role in The Three Musketeers, her artistic high point.
She did a couple of TV specials, hosted Saturday Night Live in its golden first season, and made more modestly successful movies. She's still acting these days, recently appearing in Legally Blonde. And she's still a stunning beauty at the age of 69.
But that's what you would expect from Raquel Welch, the lady who caused many of us kids to realize that girls weren't so icky after all.