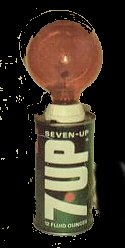 Hey there cola hearted woman
Come and drink from my loving cup
It will melt your cola heart babe,
Cause it is filled with 7up
7up embarked on the Uncola approach with its ads starting about 1970. They went straight for the youth (that would be US!) with its commercials featuring bright lights, rock and roll, and promises of romance.
The one featuring the can light stuck vividly in my mind.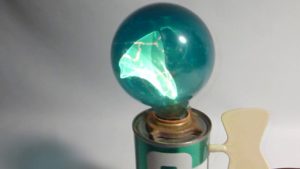 My oldest brother's wife actually bought me one of the dancing filament 7up lights. I was mesmerized by its rapid flickering, particularly in a dark bedroom with WLS on the radio.
The flickering filament wouldn't last very long before burning out. And, they were expensive to replace. So most 7up can lights, mine included, ended up with regular bulbs in them.
I was recently delighted to find under my house (built in 1972) a 7up can that looks exactly like the one in the illustration. Perhaps I'll turn it into a lamp someday.