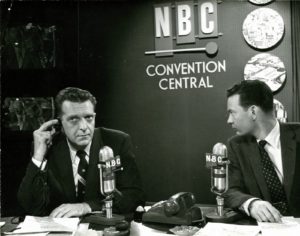 You knew this was a serious news show. The opening music left no doubt in your mind. By the way, in case you didn't know, it was Beethoven's second movement (scherzo) of his ninth symphony.
Chet and David were my Dad's favorites, so it was they who showed me space capsules orbiting the earth, the war in Vietnam, the protest marches, and the tragic assassinations of Bobby Kennedy and Martin Luther King.
Chet was usually in New York, and David was in Washington D.C. While far from a comedian, if there was a lightweight remark to be made, it came from David. Chet never cracked a smile that I recall.
Once the broadcast was at an end, some very familiar words were exchanged:
"Good night, Chet." Good night, David. And good night from NBC News."
It was an exchange I heard practically every weeknight. I miss it.