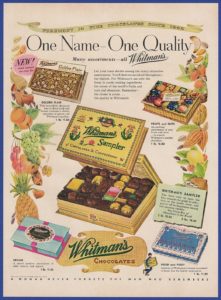 When I was growing up, my mom and dad would periodically get into a squabble. Like all husbands, each incident was 100% his fault. He was smart enough to recognize this, thus he would frequently negotiate a make-up session by driving to the local Rexall's and purchasing a very powerful female sedative: the Whitman's Sampler.
The venerable Sampler got its start in 1912. Whitman's Confectionery was founded in Philadelphia in 1842. Stephen Whitman knew his craft well, and his candy was a success. Sometime in the early 1900's, Walter Sharp was hired as sales manager. The aptly-named Sharp took Whitman's candy to a higher level, aggressively pushing the products to drug stores, where it is still found over a hundred years later. In researching this piece, I was reminded that it was always the drug store where dad would buy them.
Anyhoo, in 1912, Sharp put a variety of chocolates in a divided box and called it the Sampler. The distinctive box design was based on a hand-made cross-stitch by his grandmother. Printed on the inside of the lid was a guide showing what each candy was.
It was a good design. That is testified to by the fact that 98 years later, it is still manufactured in its original form, or close enough that Mr. Sharp would instantly recognize it as familiar.
Whitman's Sampler survived the Depression, two world wars, and the economic twists and turns of the 70's. In the 40's, celebrities were featured in glossy magazine ads. Get this: the celebs were paid in Whitman's Samplers! So they were obviously sincere in praising the product, willing to work for it. The depicted Bob Hope had a very famous happy lifelong marriage to his beloved Dolores, no doubt aided by periodic gifts of the Sampler.
Whitman's has also been very supportive of American troops overseas. In practically every conflict of this and the last centuries, servicemen have been sent Whitman's Samplers. Another nice tradition is that the boxes would often contain handwritten notes of encouragement.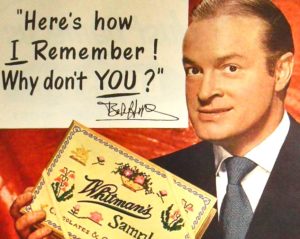 But this blog is about Boomer reminiscences, so back to the subject at hand.
Mom would always generously share her Sampler with me. Thus, I have many warm memories of wolfing down solid chocolate messenger boys, my personal favorite. The cherry cordials were heavenly, too, but mom thought so too. End of story.
The Sampler, as practically everyone already knows, is a sturdy cardboard box that contains, not one, but TWO trays of delicious chocolaty goodness. One of my earliest delightful discoveries was that once you emptied the upper tray, there was that equally loaded twin underneath!
You know, I've spent the rest of my life looking for hidden trays.
As mentioned earlier, not only has the Sampler survived, but it's almost identical in appearance to the ones we recall, and the ones our parents and grandparents may have remembered, as well. They are still carried in drug stores, too.
But they have kept up with the times. For instance, you can now purchase a sugar-free Sampler. And you can purchase Samplers online, too, direct from the factory, and have them delivered to your door.
Take my advice, husbands. The best way to get out of the doghouse is to trek down to the local drug store, plunk down your 14 bucks, and hand-deliver a Sampler to the offended mate, along with a sincere apology.
Ahh, nothing like making up. 😉