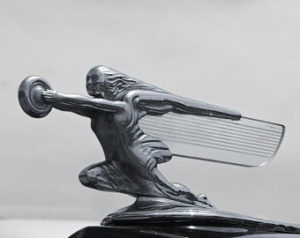 We Boomers saw the decline, fall, and disappearance of many things during our lifetimes. One of these once-familiar sights that has become much more rare is the hood ornament.
Once upon a time, hood ornaments graced the exposed radiator caps of cars built in the 30's and 40's. They were often exquisite art deco creations, and are, of course, avidly sought after by collectors.
But as radiator caps disappeared, hood ornaments continued to hold a proud position on the cars our parents drove. And we kids of the 50's and 60's were used to seeing twenty-year-old automobiles, complete with hood ornaments that defined the era.
For example, flying ladies typified the 30's and 40's. Airplanes began to appear in the 40's, to be displaced by jets in the 50's.
As the 60's debuted and wore on, hood ornaments began to vanish from mainstream automobiles. Where once every model of car seemed to be graced by one, now they were by and large becoming status symbols of cars with a reputation for luxury.
The 1958 Chevy Bel-Air, beginning to show the longer, sleeker lines that would typify the 60's, was released with a hood ornament conspicuously absent. It was a sign of things to come.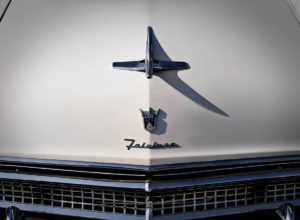 By the time I was around and beginning to remember things, my father's Plymouth had nothing but smooth metal on its hood. Ornaments were found on those funny looking fat cars from the 50's.
Buick, for one, continued to put ornaments on many of its models. So did Cadillac. The writing was on the wall: hood ornaments were no longer for the general masses. Now, they would have a home on more prestigious automobiles.
Somewhere along the line, litigation reared its hideous head. Pedestrians who were hit by cars with hood ornaments were badly injured. The few hood-mounted sculptures installed at the factory were either removed by automakers, or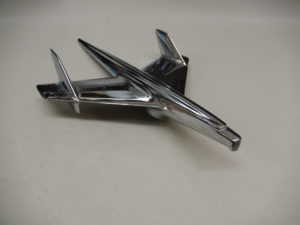 spring-loaded.
It seems to me that if a pedestrian is hit by a car, the issue of whether or not a hood ornament is present is among the more minor worries that he has. But lawyers have gotten wealthy by exploiting the damage specifically done by the device, so things have changed as a response.
But hood ornaments have never disappeared. Of course, the Beemers, Mecedes', and Rolls Royces of the world are still adorned, but more mundane vehicles also might spot the occasional piece of metallic art, thanks to aftermarket producers.
J.C. Whitney in particular has a large variety of affordable hood ornaments. For the more luxury-minded, you can get an ornament from mascots unlimited, the same folks who supply decorations to the automobiles that British royalty motor around in on the wrong side of the road.
But try as you might, you just can't return to the days when cars were huge, boxy, and sported sleek, jet-shaped hood ornaments.