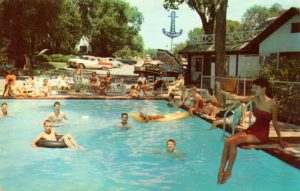 I wasn't shortchanged for vacations when I was a kid. I lived in a dual-income household long before it was necessary for economic survival. So when my mom, the schoolteacher, got three months off during summer, we were assured of traveling SOMEWHERE.
A sleepy little fishing village in southern Missouri was a couple hours' drive from my Miami, Oklahoma hometown. It was a fun, homey, funky place to get away for a couple of days. And the trout fishing was good on Lake Taneycomo, a dammed-up portion of the White River that was more of a swollen watercourse than a lake. But the ice-cold water teemed with rainbow trout.
As a result, I have fond memories of many trips to Branson. And the majority of them involve staying at the same place: the Anchor Inn, right next to the old bridge that crosses Taneycomo.
The Anchor Inn was a cottage rental outfit. The individual cottages sat among the oak trees on the top of the cliff that overlooked Taneycomo below. It had a pool that I remember as being as big as the municipal pool that still exists in Miami, but which was no doubt quite a bit smaller.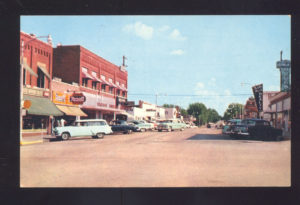 It was quite reasonable, or dad would not have been a return customer. We must have stayed at the Anchor Inn at least ten times during my childhood.
Once, though, we stayed in a different spot that had a cabin right on the lake. The rental included a boat, which I went out on with my father and older brothers many times. I was too young to fish, so my job was to keep pulling the stringer out of the water and admire the catch.
The point of this reminiscence is that Branson, Missouri was once known as a quiet little Ozark getaway, not a place where musical performers go to end their careers. 😉
In the 60's, the musical acts consisted of the Presley Family and the Baldknobbbers. It was down home, yee-haw stuff, complete with matching buffoons in straw hats and overalls. Dad would never consider spending his hard-earned money on such nonsense. It was better destined for salmon eggs and fishing gear.
But the musical acts caught on, and today, that sleepy fishing village has turned into one of the top vacation spots in the US. Perhaps you have visited there yourself. But you probably weren't there when you were a kid, unless you grew up in the south-central United States.
But odds are a Boomer kid has fond recollections of a similar situation where a quiet spot turned into a massive tourist attraction. If so, take today's account of sleepy Branson, Missouri, and change the names as needed.