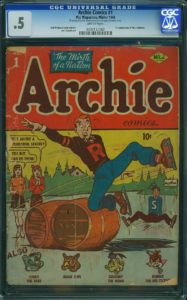 I had two older brothers growing up. We bonded in different ways. My oldest brother and myself shared a love for science, as can be exemplified by our mutual love for the Mr. Wizard show. My middle brother and myself shared love for things like fireworks, Flipper, and Archie comics.
I was very fortunate to have been taught to read by a progressive-minded kindergarten teacher who was a firm believer in phonics. That meant I could enjoy Archie comics storylines at the tender age of five! And enjoy them I did.
Bill would obtain the comics for twelve cents, and I would get to read them for free! Not a bad deal at all.
The comics that my middle brother and I held in such high esteem got their start back in 1939. MLJ Comics, named after the first initials of its three founders: Maurice Coyne, Louis Silberkleit, and John L. Goldwater, began in that year. Two years later, in an issue of Pep comics, a character named Archie Andrews appeared.
His character was based, among others, on Mickey Rooney's Andy Hardy character. But instead of Judy Garland, he got to run around with gorgeous girl-next-door type Betty and equally gorgeous rich girl Veronica.
Man, those gals gave me an appreciation for the female body at an early age.
But a recurring theme of Archie comics, which continues to this day, is an inherent innocence and wholesomeness, enforced by fierce brand name protection for any who might use trademarked characters without permission and approval.
The comics grew in popularity, and more and more characters were added, many of whom rated their own series of comic books. Thus, we got Reggie, Jughead, Betty and Veronica, Archie's Pals and Gals, Li'l Jinx, Sabrina, the Teenage Witch, Josie and the Pussycats, and even Little Archie, the youthful version.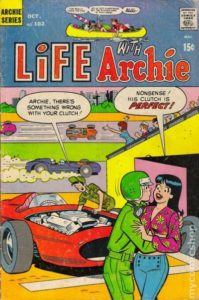 Life with Archie was an example of thinking outside the box. This series would look at things more seriously. It featured Archie and pals as super heroes fighting crime, of as tortured teens suffering from angst or temptations. There were even some Christian stories. According to Don Markstein's Toonopedia, this particular series is one of the most sought after by collectors today.
But by and large, Archie comics were nice, lightweight entertainment. The fact that they continue to sell in the millions over sixty years after their inception proves the value of picking a simple premise and sticking with it.
After all, it's impossible to picture Archie and his friends protesting the Vietnam war, or introducing a gay character, or taking a stand on abortion. Feminists have vilified the comics for making Betty and Veronica stereotypical beautiful ineffective bimbos, but they are missing the point. Archie is all about the fantasy world of Riverdale. They don't suffer from mundane problems like AIDS, destruction of the ozone layer, abuse of the helpless, or things like that. No, the biggest hitches that are faced are what to wear to the dance, or who to ask without making the other angry, or facing a pop test in Mr. Flutesnoot's class.
In other words, it's ESCAPISM, and we need it badly from time to time. I salute Archie's creators for staying with the ship's course. Its continuing popularity makes it clear that it's a good way to go