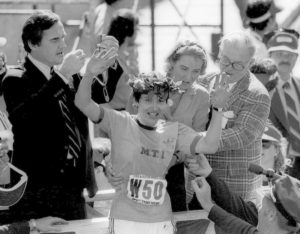 The term "d'oh!" originated with Homer Simpson about 1990. But odds are that when Rosie Ruiz rounded that last corner at the 1980 Boston Marathon and saw a pristine tape across the finish line, she probably uttered the Spanish equivalent.
Ruiz, born in Havana in 1954, wanted to gain a little fame. Unfortunately, she miscalculated a bit, and instead gained a tremendous amount of fame's dark cousin, infamy.
There are a variety of theories as to why this rookie runner, who had just taken up the sport a year and a half earlier, would take such a ridiculous chance and try to convince the world that she had broken the Boston Marathon record by three minutes. I'm going with the conjecture that she only meant to cheat a LITTLE bit.
A cable TV network assembled a panel of running experts and marathon officials to discuss what happened and why. Their mutually-agreed-upon theory holds a lot of water, IMHO, but first, what happened.
Canadian Jacqueline Gareau was acknowledged as the race's female frontrunner by the crowds, who cheered her loudly as she would pass by. But when she got to the finish line, there was no tape to break. It had already been severed by one Rosie Ruiz, who looked as fresh as a daisy as she crossed the line barely damp with sweat and breathing like she had just strolled across her front lawn.
Gareau was a bit surprised to learn that she had finished second. So was the crowd that had cheered her on. So were the media, who had tons of images of the race showing clearly that the Canadian had passed all other female runners.
As officials delved into an investigation, the facts made it obvious that Rosie had entered the race less than a mile from the finish.
Ruiz had finished a respectable 23rd in the New York City Marathon to qualify for the Boston contest. Or did she? Eyewitnesses saw her riding a subway during the race. I don't think that's allowed.
So why did she do it? A sympathetic Wikipedia entry suggests that her finish in the New York Marathon was the result of a goof on the part of the race organizers. Her boss, elated with her performance, insisted she go to Boston. Rosie intended to finish respectably, but instead mistimed her re-entry into the race, and ended up crossing the line first.
D'oh!
Well, she certainly did become famous. Her name is one of the most familiar of female runners, along with Joan Benoit, Flo Joyner, and Mary Decker.
The trouble is, Pete Rose, Shoeless Joe Jackson, and Barry Bonds are famous too. But why?