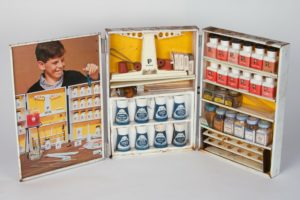 Man, the things our parents let us play with in the 60's and 70's. I haven't looked at modern-day chemistry sets, but in a land where you can't get authentic Kinder Eggs because of the fear that you may be stupid enough to give the hidden toys inside to a child of less than three years of age, I can't imagine either of the two chemistry sets I once owned being offered for sale today.
More's the pity, because a chemistry set, circa 1970, made you more mature. Read on for more details.
My first set was a Skilcraft my parents bought me in 1970. I was ten years old. The manual that came with it was divided into two sections: lightweight magic you could perform with chemicals, and more serious experiments that would teach you about chemistry.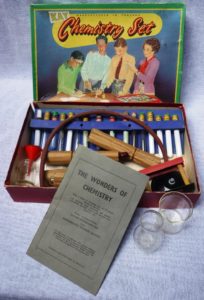 The magic tricks consisted of stuff like preparing two test tubes of clear liquids (one contained phenolphthalein solution, I can't recall the other needed chemical) which you could mix together to magically form "grape juice."
You can see where this is heading. Today's poor, stupid, coddled youngsters, upon being told that they could make chemical "grape juice," would obviously gorge themselves on it, necessitating an emergency room visit, as well as lots of legal action.
At least that's what our modern society would have you believe.
The more serious section of the Skilcraft manual taught you how acids and bases would interact, how you could use red and blue litmus paper to detect them, how you could mix two liquid chemicals to immediately form a solid precipitate, and how it happened at the molecular level, stuff like that.
As much as I ate that stuff up, I'm surprised that I never pursued a career in the field. In fact, I never even took chemistry in high school, despite the urgings of the teacher to do so. Don't ask me why.
But I seriously loved messing with my chemistry set when I was ten. Eventually, it fell into disrepair and vanished. But when I was TWELVE, I got the most equipped Skilcraft set that they made!
I was in heaven. This incredible set even came with a balance beam, so you could compare the weights of chemicals! Cool stuff indeed.
Just think for a moment about what kids were given: Chemistry sets came with an alcohol lamp, which you filled with the flammable liquid, lit with a match, and used to provide intense heat for experimentation purposes. They also came with glass test tubes, which could shatter upon impact, or even from heating them too fast. They came with lots of chemicals, most of which were relatively harmless, but a few of which (e.g. cobalt chloride) had long, finely worded warnings printed on the back of the bottle warning of dire consequences in the unfortunate event you poured them into your eyes, or ingested them. And carelessly mixing benign ingredients without guidance could create harmful reactions, as well.
Ergo, a ten-year-old with a chemistry set instantly became a mature young man who knew how to safely handle fire (the enclosed manual stepped you through it), potentially dangerous chemicals, breakable glassware, and also knew enough not to venture too far in experimentation.
It's a pity today's ten-year-olds aren't given the opportunity to do the same