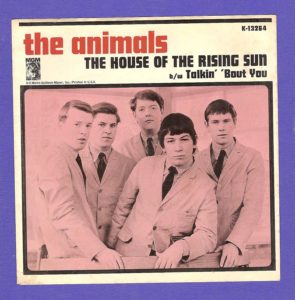 Ready for a brain cell workout? How many flipsides can YOU recall?
While driving down the road the other day and listening to The Animals' Animalisms, the song "Talkin' Bout You" came on. I hadn't heard that tune since I played it on a portable record player about 1970.
What I vividly remember is that "Talkin' Bout You" was the flip side of my favorite song as a child: "House of the Rising Sun."
A seven-year-old kid was likely to play both sides of a record that his older brother only heard on the hit side. Such is the nature of a seven-year-old. Curiosity is high, a sense of what song is hot has not yet developed.
Add that to a slightly-better-than-normal memory and you get factoids like the Beatles' "Thank You Girl" was backed by "Do You Want to Know a Secret."
Those records, that red-plaid colored record player, and I spent many a rainy afternoon in my room. Thus, I can state, beyond a shadow of a doubt, that the flipside of Freddie and the Dreamers' "I'm Telling You Now" is a forgettable (not to me, of course) ditty called "What Have I Done to You."
Record companies have long put less-than-marketable-as-singles on the flipsides of 45's. Once in a while, a release like Hey Jude, backed with Revolution would sneak out, but by and large, the flipsides are thrown in as a freebie that the consumer would never buy on its own merit.
Now, of course, the flipside is a thing of the past, as 45's, while not extinct (thanks in large part to the jukebox industry), are certainly not available all over town like they once were.
Thus, today's kids are growing up without knowledge of trivial facts like Sgt. Barry Sadler's "Ballad of the Green Berets" was backed with something called "Letter from Vietnam."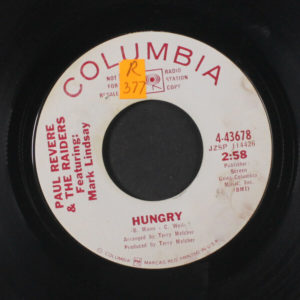 A kid would enjoy the lesser-renowned tunes. "Hungry", by Paul Revere and the Raiders, was a great song, but then again so was "There She Goes." Crispian St. Peters' "Pied Piper" was a hit, but "Sweet Dawn, My true Love," the flip, would have been one too, had seven-year-olds determined the charts.
In 1972, I made a very regrettable mistake. I bought my first 45. Such an occasion should be marked by joyous memories of walking out of the Gibson's Discount Store with a classic. American Pie? Long Cool Woman in a Black Dress? Rick Nelson's Garden Party?
I bought the Osmond's "Down by the Lazy River." Oh, the shame.
By the way, the flipside was called "He's the Light of the World."
So now, readers, it's your turn. Dig deep in those memory banks and post your own flipside songs that you probably hadn't thought about in thirty or more years.
AAARGH! I have forgotten one. For the life of me, the flipside of Mrs. Brown You've Got a Lovely Daughter by Herman's Hermits has escaped from my memory banks. Can anyone help me out?