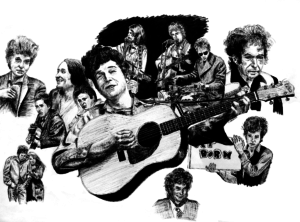 I just had an epiphany.
An epiphany is basically an awakening. My tiny little version was that I had been cranking out Boomer memories for what will be two years in a couple of months, and yet, I had never written about the poetic voice of our generation, who appeared on the national scene in 1962, just in time to explain the tumultuous events which were about to unfurl for the rest of the decade, and whose words and music would be followed with nearly religious devotion by the nation's youth.
Thus, my tiny little epiphany was that I needed to bring up the much greater one given the world by one Robert Zimmerman, better known by his self-chosen name Bob Dylan.
This column is entitled "Scratching the Surface," because much more will need to be written about Dylan here to present an acceptably whole picture of him and his effects on the Boomer generation.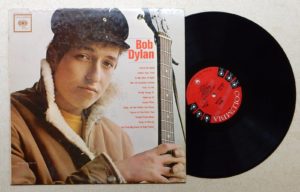 Dylan got his start in the New York coffee-houses that were Beatnik hangouts in the early 60's. He was an ardent fan of Woodie Guthrie, who was dying in a New York hospital. Dylan traveled all the way from his home state of Minnesota, and did manage to meet his idol, as well as Guthrie friend Ramblin' Jack Elliot.
Dylan and Elliot would eventually perform live shows together, and still remain good friends.
Bob was soon noticed by newspaper reviewers who hung around the coffee-houses and caught local concerts. His fame grew among professional musicians, and he was asked by folksinger Carolyn Hester to play harmonica on her third album.
This caught the attention of John Hammond at Columbia Records, who signed Dylan up. His first album, Bob Dylan, was released in 1962. It sold a piddling 5,000 copies its first year, and Columbia pondered dropping him. But Hammond (who produced his first album), as well as a rocakabilly singer by the name of Johnny Cash, fought hard to give him a second album. Thus was released later that year The Freewheelin' Bob Dylan, which was much more successful, and finally turned the public onto this amazing folksinger.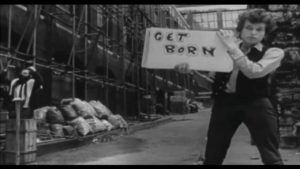 Freewheelin' had, among other classics, Blowin' in the Wind, Don't Think Twice, It's All Right, and A Hard Rain's A-Gonna Fall.
Indeed, Dylan's reputation as a visionary largely came about because of the description of an apocalyptic world in the latter song. The album was released shortly before the Cuban Missile Crisis.
Among those taken up with the Minnesota poet were many who would eventually constitute 1960's music. This group, all of whom have acknowledged their inspiration by Dylan, includes the Beatles, the Byrds, Joan Baez, Van Morrison, Neil Young, the aforementioned Johnny Cash, Jimi Hendrix, the Animals, the Rolling Stones, Elvis Presley, and countless others. How many of them would have accomplished what they did without Dylan's genius driving them?
Dylan's lyrics were turned up several notches on his, and arguably, rock and roll's, two greatest albums, 1965's Highway 61 Revisited, and 1966's Blonde on Blonde.
The words were often nonsensical collections of strange ideas that somehow made sense. Who was Ballad of a Thin Man about? What did it mean when Mr. Jones was called a cow by the one-eyed midget? Who were his contacts among the lumberjacks? Who is this geek that he purchases a ticket to go watch, who would call Jones the freak?
The song has been analyzed by many, with possible meanings ranging from Dylan's distasteful view of Rolling Stones guitarist Brian Jones to a personal admission of homosexuality.
Such was Dylan's songwriting at its greatest. The things he wrote about were very much open to interpretation. But all agreed that they were truly great songs.
Look for more on Dylan in future installments at I Remember JFK.