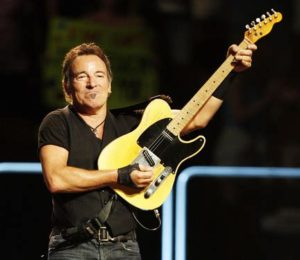 I first heard Born to Run on WLS sometime in 1975. It was a decent song, but didn't really stand out above the other stuff I was into. Then, a couple of years later, I heard Thunder Road. My interest was piqued.
A little later, I began reading Rolling Stone magazine. Springsteen released Darkness on the Edge of Town in 1978, and in reviewing the album, a 1974 quote from RS critic Jon Landau, when he had just seen his first live show by the Boss, was cited:
"I saw my rock and roll past flash before my eyes. I saw something else: I saw rock and roll's future and its name is Bruce Springsteen."
I liked Landau's reviews, and that statement made a deep impression on me. Thus, I began avidly listening to Springsteen. Sadly, it seemed like all of my buddies were into FM radio then, which consisted largely of Styx, Foreigner, and disco. Popular music was certainly in the midst of an overall talent recession in '78 and '79, IMHO.
Anyhow, I became a major fan of the Boss, and still am today. Not all of his albums have been brilliant, but enough have that I add every new one to my collection, which even includes some vinyl and digital bootlegs.
So when I arrived home from work last Monday and my wife surprised me with tickets to his Tulsa April 7th concert, well, you can imagine my reaction.
I have been fortunate enough to catch Springsteen twice, in 1981 and last week. What follows is a review of the experiences. Savvy Boomers may want to follow the Boss's example in living so as to avoid any trace of ever getting old.
If you've never been to a Springsteen concert, here's what you won't see: an opening act.
The reason is that back in 1981, Bruce came onstage at 8:30, played for an hour and a half, took a forty minute break, and then played again until just after midnight.
2 1/2 hours of Springsteen and the E Street Band makes any need for opening acts look silly, indeed.
I took notes at that concert, including the playlist. I needn't have. 28 years later, we have the internet, and sites like http://www.brucebase.org.uk, which provided me with the complete playlist. However, if it wasn't for my notes, you wouldn't know that Clarence Clemons first came out in a conservative brown suit, and switched to a flashier red one after the break, complete with black derby. 😉
Anyhow, that was my first rock concert, and it was a terrible disservice to any acts that I would see afterwards, including the Stones, George Thoroughgood, John Mayall, and others.
NOBODY gave a concert like Springsteen in 1981.
Now, here's the good news: all of these years later, the man has lost exactly zero steps to time.
When he erupted onto the stage at the BoK Center, I was blown away by the shape he was in. He was ripped, not an ounce of fat. The man is 59 years old, and looks 40! There must be some sort of elixir of youth at the Springsteen house, because 55-year-old Patty Scialfa is also in top physical shape, and GORGEOUS!
And the music? Well, most of the 1981 E-Streeters are still there, missing, of course, the late Danny Federici. Nils Lofgren is now a member, and his guitar work, particularly slide, is unbelievable. Steve Van Zandt has put on a few pounds (must have been that rich Italian food on The Sopranos), but hasn't lost a step. Max, Roy, and Garry all look grayer, but are rocking like Carter is still President. Two other newcomers are violinist Soozie Tyrell and keyboardist Charles Giordano.
The show began a half hour late, but nobody was complaining. The audience was largely Boomers, some with grandchildren, but also lots of hooting, hollering youngsters like me, 29 years ago. When the stage lights came on and the band opened with Badlands (just like in Memphis!), the night was on. And a very good night it was.
What followed was 2 1/2 hours of sheer energy that left me (and my younger bride) thoroughly exhausted. I screamed, whistled, jumped, sang, and perspired heavily until the closing tune, Dancing in the Dark. Then, I drove home two hours and slept for another ten.
The show included tracks from most of his albums, and a couple of folksy tunes that sounded like they should have been on The Seeger Sessions. Even Youngstown, from The Ghost of Tom Joad, made it into the set. So did Seeds, which was about the misery of a laid-off oilfield worker, only released on 1985's Live. I guess today's economy sadly makes the tune relevant yet again.
Many years have passed since that February night in 1981, when I first experienced Springsteen live. But not all the changes since then have been for the worse. The pot smoke in the Mid-South Coliseum was so thick by the end of the show that I could barely see the stage a hundred feet away. I was also VERY hungry for Chee-tos ;-).There was nary a joint, or any other cigarette, for that matter, to be seen or smelled in Tulsa.
And Mr. Landau, your 1974 vision was prophetic, indeed. In fact, as far as I can tell, the future of 21st century rock and roll continues to be Bruce Springsteen.
Songlist for April 7, 2009:
Badlands
Outlaw Pete
Night
Out in the Street
Working on a Dream
Seeds
Johnny 99
Youngstown
I'm on Fire
Working on the Highway
I'm Goin' Down
Waitin' on a Sunny Day
The Promised Land
The Wrestler
Kingdom of Days
Lonesome Day
The Rising
Born to Run
(encore)
Hard Times Come Again No More
Rosalita (Come Out Tonight)
Tenth Avenue Freeze-Out
Land of Hope and Dreams
American Land
Dancing in the Dark