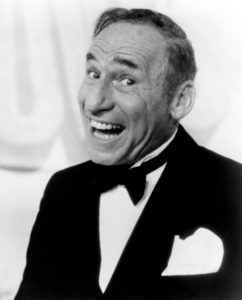 Everybody loves to laugh. And growing up a Boomer, one of my most consistent sources of laughter was Mel Brooks.
Melvin Kaminsky was born in 1928 Brooklyn to a father descended from German Jews and a mother whose lineage was Russian Jews. He was a sickly child who soon discovered that he loved to entertain and make people laugh. His first public performances came as a tummler at various Catskill resorts. As master of ceremonies, he took advantage of opportunities to poke fun at acts, audience members and just cut up in general. Soon, he moved on to full-time standup. However, he eventually specialized in writing gags behind the scenes.
After serving as a corporal in the army in WWII, he landed a gig writing for Your Show of Shows in 1950. He worked alongside Carl Reiner, who would eventually base Morey Amsterdam's role of Buddy Sorell inThe Dick Van Dyke Show on his pal Mel.
In 1960, Mel and Carl landed a writing/performing role on Steve Allen's variety show. They created the routine of The 2000 Year Old Man, which went on to live a life of its own, spawning five albums and a 1975 TV special.
Brooks expanded his career into films. In 1963, he produced and voiced an animated short called The Critic. It won an Oscar, boding well for Mel Brooks, filmmaker. He continued to stay busy on TV projects. He soon got a job working with Buck Henry writing for Get Smart.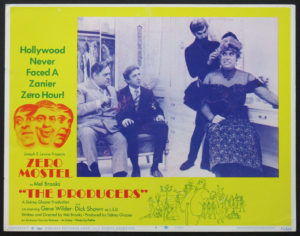 However, Mel wanted to get back into the cinema. He wrote and directed The Producers, starring Zero Mostel and a young, unknown Gene Wilder. The movie's premise, celebrating Hitler in song, was so outrageous that the major studios wouldn't touch it, a situation that would repeat itself in Mel's career. Eventually, he persuaded Embassy Pictures, an independent, to release it like an art film. He once again attracted the attention of the Academy, and The Producers won an Oscar for Best Original Screenplay.
That's one of the reasons I personally love Mel Brooks so much. He eschews all things politically correct in order to make statements that actually require brain cells in order to decipher.
The Producers went on to become a recent Broadway smash, earning twelve Tony awards. And yes, it still sarcastically celebrates Hitler.
As the 70's began, Mel the writer once again turned his attention to the cinema. In 1970, he directed and starred in The Twelve Chairs, the funniest movie you've never heard of. The movie was a sendup of greed, Communism, and religion. Sadly, it remains obscure.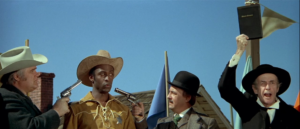 Mel's next project was a trashing of the Western genre, a movie that would eventually be hailed as a brilliant statement of the stupidity of racism, but which would be reviled by the PC Police for years to come. Blazing Saddles horrified Warner Brothers executives, too. They objected to the repeated use of the "n-word," (completely missing the purpose of the frequent use of the word in the process), the punching of a horse, and a bunch of cowboys sitting around a campfire passing cubic yards of gas.
However, Mel's contract gave him final control, and the result was that the single funniest movie ever made, in this humble reviewer's opinion, was released in 1974.
As the 70's wore on, Mel the writer/director (and sometimes actor) rode a wave of good times. Blazing Saddles was followed by Young Frankenstein, Silent Movie, and High Anxiety. His hot streak continued into the next decade, with History of the World Part I and Spaceballs. All good things must come to an end, his output afterwards was received with mixed reviews and poor performance at the box office.
Unfazed, Mel went to work putting The Producers on Broadway, where it has set records galore and, as previously mentioned, won a host of Tonys. A similar reworking of Young Frankenstein didn't do as well , garnering mixed reviews, but the unstoppable genius now has plans to similarly rework Blazing Saddles and Get Smart into stage musicals.
Here's hoping he succeeds wildly.