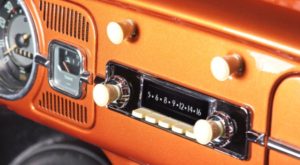 Don't look now, Baby Boomers, this one slipped away while you weren't looking!
The AM push-button radio, the same we used to yank out of our dashboards and throw away when we replaced it with a shiny new AM/FM/8-track player, is extinct.
Now I haven't confirmed this, but every new car I've seen, even the most basic economy models, have AM/FM electronic radios or better in them. But when we were kids, and even adults just a few years ago, the push-button AM radio was what you got when you bought a new car.
The push buttons were ingenious. When I was a kid, I wondered how on earth my dad's favorite stations would come up when he hit the buttons. I thought it was amazing that Plymouth (dad always bought Plymouths) knew ahead of time where KMOX was on the dial!
Eventually, I learned that you programmed the buttons yourself. Perhaps "programmed" isn't the best term to use, because it very low-tech. You manually found your station, pulled the button you wanted to find it with out with a mighty yank, then push it all the way back in.
As a teenager, it was great fun to get in a friend's car and switch his WLS or WOAI buttons to, say, the local gospel station.
Every Boomer probably threw away at least a dozen of these venerable, solid-as-a-rock receivers of static-plagued AM. Perhaps we should have stashed them away instead. No doubt vintage radios have value to collectors, as well as to people looking for authentic stuff for restorations.
I have a sweet car stereo system now. It has a subwoofer, numerous tweeters, mid-ranges, etc., and a multimedia in-dash unit that lets me load mp3's onto a flash drive and play them. But sometimes, I tune in a scratchy AM station just to remember what it used to sound like driving down the road.