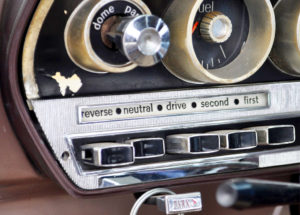 An innovation that first appeared in 1956, and lasted until 1966, was the push-button transmission. I remember my oldest brother had a Plymouth from the early 60's that had it.
The pushbutton transmission was available in two incarnations: mechanical (pretty darned reliable) and electrical (extremely unreliable).
Packard introduced it with their 1956 Caribbean. It was the electrical one, and it had problems. If you parked on a steep hill, the shifting motor would lock up trying to get the car out of Park. It would trip a breaker, and you would be stuck. To make matters worse, when Packard's production ceased that year, the manufacturers of the shifting mechanism destroyed the tooling. Replacement parts became impossible to obtain.
The king of the boneheaded electrical shifters was the Edsel. Not only did the shifter have lots of problems, they mounted the buttons in the middle of the steering wheel! Guess what would would happen when drivers made an emergency move for the horn.
The most reliable shifters were in the Chryslers, Dodges, and Plymouths. They used mecahnical linkage to engage the various gears. In 1956, the Neutral button even started the car! You pushed it all the way in and it would engage the starter motor. A vacuum switch was supposed to disengage the motor contacts while the engine was running, but if it failed, you could grind your starter by pushing the Neutral button too hard.
The pushbuttons were like the Dallas Cowboys: people either loved them or hated them. Aficionados would make sure that the cars they bought had them, building product loyalty for Chrysler Motors.
The pushbutton option never really set the world on fire, though. In 1966 or thereabouts, the government's General Services Administration declared that any autos for government usage would have either column- or floor-mounted shifters. Chrysler dropped pushbuttons on the spot.
Today, pushbutton transmissions and the strange problems they would have (buttons pushed all the way into the dash assembly weren't uncommon) are a distant memory.