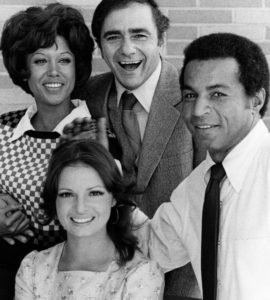 Wednesday nights were for a great lineup of clever sitcoms around 1970. One of these was Room 222.
Room 222 was Pete Dixon's classroom where he taught American History. His students loved his easy-going style. It was also a place where nobody ever graduated.
Shows about schoolteachers have always faced the challenge of what to do with actors who play students that audiences like. Some have followed the students as they "move on" to new grades and new teachers. Room 222 just chose to have the same students stick around year after year. It lasted just 4 1/2 seasons, so I guess it was believable enough.
In researching the show, I was impressed at the list of names of actors who played students "just passing through." They include Teri Garr, Cindy Williams, Rob Reiner, Richard Dreyfuss, Mark Hamill, and Chuck Norris.
The show had one undeniable highlight for any male viewers of even as young as ten years old: Karen Valentine in various sweaters.
Karen defined "perky" long before Sandra Bullock, Jennifer Aniston, or Meg Ryan. She was a beautiful lady, and I hope she's living a happy life somewhere. Nobody will ever look better in a turtleneck.
Greek actor Michael Constantine played Jewish principal Seymour Kaufman. It was great to see him playing a real Greek recently in My Big Fat Greek Wedding. He still looks young.