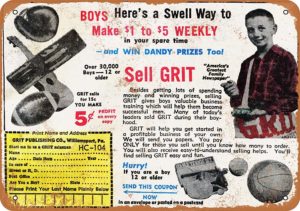 In the vast closet of my memory banks, I recall a kid in the neighborhood who was always asking if our parents would be interested in reading Grit. It was a dime, as I recall, and my folks weren't interested. But many other parents were, and the kid had nice stuff that he had obtained for himself as a result of his entrepreneurship.
He plied his trade hard. While the rest of us were of playing, this kid might be parked outside of Moonwink Grocery with his cloth bag full of Grits, patiently racking up the occasional sale.
Grit prospered for many years with the aid of its preteen sales force. Founded as a local Williamsport, PA newspaper in 1882, it slowly but surely increased its readership until, by the late 1950's, it was close to a million with a local, a Pennsylvania, and a national edition.
Grit's mission statement was simple: report the news, but keep things upbeat. People could read the nasty realistic side of the news any time, but Grit readers would come to appreciate its overall optimistic tone.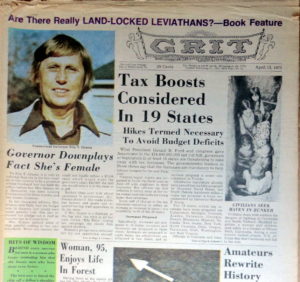 And most of its readers bought the papers one at a time from youthful salespeople. Kids sold grit up until the mid 1970's, and at its peak years of the 1950's, over 30,000 kids were distributing more than 700,000 copies.
Grit had something for everyone. There were the daily news headlines, the women's section (Grit had a large female audience), the family section, the comics for the kids, and serialized novels. It would frequently take a nostalgic look at things, something I can relate to. 😉
As I said before, my parents weren't Grit readers. But I was introduced to the newspaper when my father brought home a few boxes of stuff he had obtained at an estate auction, one of his favorite places to get cheap stuff. One box had a stack of Grits in it, and I spent many pleasant afternoons reading them in the storage shed where they were stored. It was fascinating stuff.
Indeed, there has always been a market for tasteful, conservative journalism. Readers Digest has long thrived dishing up such stuff. So has Capper's Weekly, which reached much the same readership as Grit. And Grit continues to survive today, even though kids no longer sell it.
Now sold as a glossy magazine on the shelves of stores with rural clientele (e.g. Tractor Supply), Grit has a respectable circulation of 150,000. Its focus nowadays is on issues affecting farmers. The nostalgic articles are largely gone, replaced by more pressing issues like burning wood at the maximum efficiency, properly shearing alpacas, and which SUV is the best value.
But think way back, and I'll bet you can remember a fresh-faced kid with a cloth bag slung over his shoulder parked at a busy location, selling "America's Greatest Family Newspaper."