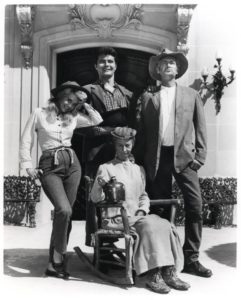 There are only a few memories that are common to practically every Boomer kid. Examples: we all got the smallpox vaccination. We all were blown away by man's first moonwalk. And I'm pretty sure that we have all watched The Beverly Hillbillies.
The show actually spawned a genre that I was not familiar with: fish-out-of-water. In 1962, it was the first television program to take a group of individuals from one world and plant them in another, a trend continued by the likes of Green Acres, Mork and Mindy, and even The Fresh Prince of Bel-Air.
But, IMHO, nobody ever did it like Paul Henning and his wonderful creation.
As everybody on the planet knows, one day Jed Clampett was out hunting with his faithful bloodhound Duke, when he shot into the ground and spawned a miniature gusher.
The next thing you know, old Jed's a millionaire. Banker Milburn Drysdale convinces him that he needs to move into a nice mansion in Beverly Hills, right next to him. And thus began TV history.
What makes a perfect sitcom? An endearing cast, brilliant writing, and love from the critics.
Just kidding about that last one. The critics largely panned the bizarre show when it first appeared among the likes of Ozzie and Harriet, Leave It to Beaver, and The Lucy Show. However, the public immediately fell in love with the Clampetts, and CBS had a major hit on their hands, which would go on to be the #1 show of the year twice in its nine-season run, and would be canceled while still a very respectable #18.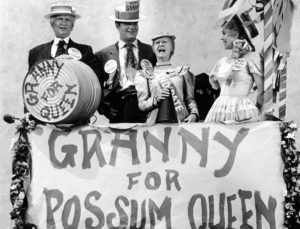 The show used lots of hillbilly humor, to be sure. Granny would infuriate Mrs. Drysdale by making soap, the family ate off a big green felt-covered table with six holes and wooden "pot-passers," and the millionaires insisted on driving their old jalopy (a 1921 Oldsmobile, currently on display at Point Lookout, Missouri.)
But it also took some rather risqué chances for the time. For example, there were the hippies that came to visit, who were intensely interested in the concept of smoking crawdads. And there was the episode where entrepreneur Jethro opened a topless restaurant. The waiters would, of course, go without hats. I remember this episode vividly. Ellie May was walking around carrying a sandwich board advertising the grand opening, and eager males followed her around. Jed explained to them that Ellie wouldn't be working as a waitress, but that he and Granny would, and they would both be topless!
Funny stuff.
The show also made us aware of the effects of typecasting.
Max Baer, Jr. was perhaps the biggest victim. The son of boxing champion Max Baer, he was quite frustrated to find that there were no non-Jethro acting jobs to be found after the series. But he did okay anyway. He took matters into his own hands and wrote and produced 1974's Macon County Line, a flick many of us saw at the drive-in. Seeing's how he was running the show, he also starred. And the movie, made for $110,000, ended up grossing 25 million bucks! Baer produced more hit films, too. Good for him.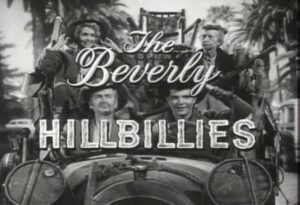 Donna Douglas was likewise forever known as Ellie May. She took it in stride, and started a very successful real estate career, and still occasionally appear in public in her familiar guise, complete with blue jeans and a rope belt.
Sadly, Irene Ryan died just a couple of years after the show's end. She would likely have done fine in later roles, as she really didn't resemble her heavily made-up character that much.
Only Buddy Ebsen overcame his character. He had a long history of film acting, and, as every trivia fan knows, would have played the Tin Man in The Wizard of Oz if he could have tolerated the aluminum paint. In researching this piece, I learned that he turned down Louis B. Mayer's offer of an exclusive contract with MGM, and was then told by Mayer that he would never get a job in Hollywood again.
You see, Hollywood producers used to be as evil as the RIAA and MPAA are nowadays. 😉
Ebsen is perhaps best remembered for his role as Barnaby Jones, an easy-going milk-drinking detective who was supposed to be past his prime. He kept that show popular for seven years.
The Beverly Hillbillies was canceled in 1971 as part of CBS's infamous rural purge. Many popular shows died that year, "anything with a tree in it," according to Pat Buttram. But even today, its syndicated reruns are some of the most popular on television.
And, as I stated earlier, I strongly suspect that the number of Boomers who never caught an episode is about the same as that of the honest Washington politicians who ignore lobbyists.