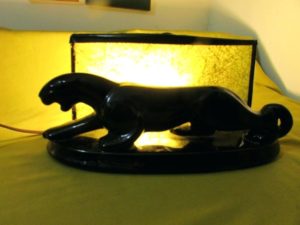 Perhaps the single biggest change in the lives of Boomers and their parents was the widespread introduction of the one-eyed monster, and its subsequent presence in the majority of homes in the US.
Along with the television came the necessary accompaniments to the electronic device itself. For instance, many a 50's or 60's home had a lamp perched on top of the idiot box designed to provide a pleasant ambient light to accompany one's viewing.
And in a large number of cases, the lamp took the form of a slinking cat.
Sometimes, the cat would simply be an ornament, with no capability of providing illumination.
But that doesn't change the fact that, for many Boomer kids, viewing the television included occasionally acknowledging the presence on top of the set of a feline protector of the dear investment that dad had made.
The cats frequently took the form of the depicted image. This particular one had a cavity on its back side that would hold a night light bulb. When switched on, it would provide a nice indirect illumination bouncing off of the living room wall, perfect for cutting down on the unpleasant glare that the set would create in a totally dark room.
Of course, that's not to say that EVERY TV lamp was shaped like a panther. But when one looks back, it seems like a majority took that form. The panther was popular with everyone, from grandma to Aunt Sophie to dear old mom.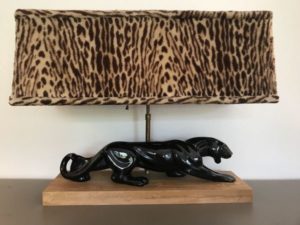 I recall seeing a TV lamp or two from my childhood that took the form of a covered wagon, its canvas providing a perfect shade to soften the night light bulb's brightness.
Some would take exception as to what constitutes a TV lamp. This particular blogger states that a TV lamp must provide back lighting in order to qualify. In other words, if a shade is required, than the lamp is not truly a TV lamp.
I must respectfully disagree. If it sat on top of a TV and provided subtle light during the Jet Age or the Space Age, it's a TV lamp.
Interestingly, although my own childhood home was classical 60's atmosphere, we never had a TV lamp. But I saw them at friends' houses, along with various figurines that would perch upon the wooden cabinet that housed the electronic works.
And yes, many a figurine was a slinking panther.
The panther pictured at the beginning of this article was a gift from my daughter. It's hand-carved onyx from Mexico. However, many of the intimidating predators were either made of cast glass or painted ceramic.
Like so many of the common household objects we grew up with, vintage TV lamps are hot collectibles. At presstime, I spotted a black panther indirect lamp from the 50's on eBay with a buy-it-now price of $39.99. That particular lamp probably cost less than five bucks new, forty bucks is certainly a reasonable price for such a piece of history.
The problem is that many of us have sprung for thin-paneled high-def TV's, which have finally become affordable enough to supplant the bulky tubed models that we have had from time immemorial.
As nimble as panthers are, it's nigh impossible for one to sit on top of a 48″ LCD screen.
Thanks to TVLamps.net for help in researching this piece!