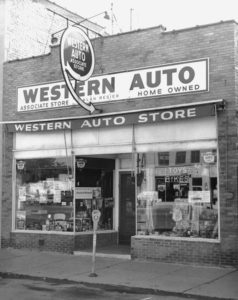 Time was, usually located on Main Street within walking distance of the Dime Store, there was an establishment that carried generic automotive supplies like oil, gas treatment, tires, freon, anti-freeze, windshield wiper blades, and wheel covers. Additionally, they offered diverse non-automotive items like lawn mowers, gardening equipment, higher-end toys (e.g. Radio Flyer wagons), major appliances, and even firearms!
Every town big enough for at least one traffic light had one, and quite a few burgs that lacked an automated traffic control system still managed to support a Western Auto store, or in the central United Sates, an Otasco.
There were probably other local versions of the ubiquitous retail establishments in other parts of the country, as well, If so, please share your memories of them, readers.
They were located everywhere because they offered what people wanted and needed. After all, our fathers all had cars, and you certainly couldn't buy anti-freeze at the IGA. And not every town had a Sears or Montgomery-Wards either, so lawnmowers and clothes dryers had to be obtained elsewhere. Thus thrived the automotive store.
They were fun places for the entire family to visit. First of all, they smelled like new tires. What a great ambience that was! Second, they were brightly lit by their fluorescent fixtures, their white vinyl-tiled floors would spread the illumination far and wide, and the staff was always very friendly and patient, even with highly active seven-year-old kids like me running all over the place.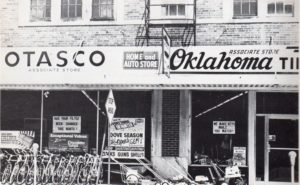 And the amazingly cool stuff they sold! Dad was impressed with the beautiful riding and self-propelled mowers, although it would be many more years before he would spring his hard-earned bucks for such luxury. Mom enjoyed the shiny new refrigerators and washing machines. And then, there were the VERY nice toys that captured the attention of Yours Truly!
Otasco, founded in 1918 by three Jewish Lithuanian immigrant brothers living in Okmulgee, Oklahoma (amazing, huh?), had branch locations all over what was known as the Four State area (Oklahoma, Kansas, Missouri, and Arkansas) in the 60's. Miami had one, so did many other small towns in twelve different states. Some even offered groceries among their wares for sale.
Otasco used to send me into a frenzy every winter. They would begin TV commercial campaigns every November complete with a catchy Christmas tune and two or three nice toys. Our parents were then barraged with requests from kids who would see the ads four or five times every Saturday morning. Our poor mothers and fathers!
But the strategy worked. I remember getting a VERY nice fire truck that had been featured in an Otasco Christmas commercial that my parents were told about at least a hundred times.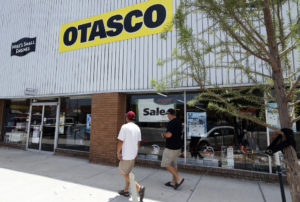 Automotive stores thrived throughout the 50's and 60's, but with the economic downturn of the 70's, many of them went belly-up. The appearance of discount store chains like K-Mart and Wal-Mart was also a nail in the coffin. K-Mart sold everything and more that Western Auto or Otasco did, only cheaper.
Interestingly, automobile parts stores began spreading like wildfire at about the same time, with AutoZones and NAPA's coming to occupy many of the now-abandoned downtown buildings once home to the automotive stores that we grew up with. While they don't sell appliances or lawnmowers, they have taken the concept of automotive supplies to the next level, offering specialized items like emissions control sensors, alternators, and water pumps.
But as sure as 30-cent-a-gallon gasoline is gone forever, so are the automotive stores that were once located on Main Street of practically every small town in America.