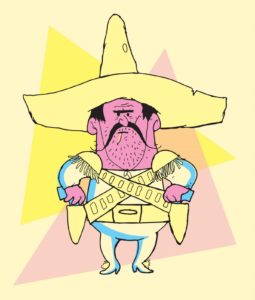 "Aye, yai yai yai, I am the Frito Bandito!"
For many of us, when we hear the familiar verse to Cielito Lindo, those words pop into our heads. From 1967 until 1971, when he was done away with under pressure from a Mexican-American anti-defamation group, the Frito Bandito ruled the airwaves. He also sold a very large bunch of snack food.
I remember constantly hearing that song, and memorizing the lyrics.
His voice was that of the master of making cartoons talk, Mel Blanc. Mel, the man who provided voices for dozens of characters for Warner Bros.and Hanna-Barbera, was a natural for this gig.
Unfortunately, people took offense. The next thing you know, there were protests. And eventually, he was laid to rest.
While this piece could easily digress into social commentary, I won't let that happen. However, I WILL replay those familiar lyrics in my mind whenever I hear that classic Spanish tune.