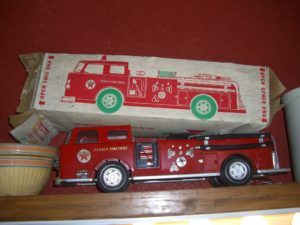 As this column began to come together in my head, it was a result of the simultaneous collusion of the time of year (lots of Christmas commercials on the tube), my suspicious eying of low gas prices (I doubt that it will last), and a jingle that has been bouncing around in my cranium since 1965 or so ("You can trust your car to the man who wears the star, the big bright Texaco star!").
The end result is today's piece on the Holy Grail of childhood possessions, one that only a few of us were privileged to own (myself not among the elite): the Texaco Fire Truck.
Sadly, there is practically nothing on the web about the history of the greatest gas station promotion ever. But what I did find, I hereby share with you, along with my own personal remembrances of the amazingly wonderful Texaco fire truck.
The fire truck, to the best of my knowledge, could only be obtained at Texaco gas stations. I located an ad for the Texaco tanker, another wonderful promotional toy that I was too young to remember, which stated that you needed to buy eight gallons of gas and fork over $3.98 to get one. I assume that the fire truck, issued in 1964, had the same requirements.
The fact is that $3.98 was a TREMENDOUS amount of money back then. That was a full tank of gas. Not many of our fathers would trivially spring for that sized chunk of change for yet another toy for the ever-begging kid.
Ergo, I never had one. But that didn't stop me from dreaming about them.
There were commercials on during the time showing what the truck would do. Sadly again, I was unable to find any on Youtube. So my memory banks will have to supply the spotty details.
The truck, first of all, was HUGE. It looked like it was four feet long (even though it wasn't, of course). It had flashing lights, or maybe there were just flashing lights on the commercial. The eBay-listed models I found didn't seem to have places for batteries.
But what made the Texaco fire truck magical was its ability to spray REAL WATER.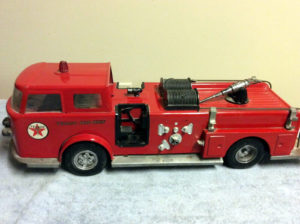 Seriously, you're a kid who loves fire trucks (redundant statement, after all ALL kids do), and here, presented in glorious black and white, was a commercial for this absolutely bonzer big truck that could actually spray water!
I'm getting excited all over again just writing about it.
So dear in price was the Texaco fire truck that I don't recall any of the neighborhood gang having one, either. But those commercials would be broadcast over and over, and we would all dream.
The company which produced the trucks was called Wen-Mac. They made miniature toys before AMF purchased them in 1959. They continued to exist for a while as a separate brand, but soon faded from sight. The outfit is so obscure that there is no Wikipedia article on them.
Wen-Mac also produced the oil tanker mentioned earlier.
The trucks were durable, as they had to be. After all, a father who did spring for the heady price wanted a toy that would last years, to be handed down to younger siblings.
They were. Many trucks still exist today, according to eBay listings, albeit in "parts only" condition. That is possibly the ultimate compliment to the Texaco fire truck.
You see, when playthings would have plastic parts snapped off, or possibly an axle would have a wheel come loose and summarily disappear, the toy would generally be tossed in the trash. But forty-four-year-old pieces and parts of Texaco fire trucks can still be freely had. Indeed, some listed for sale have been cobbled back into semi-working order by imaginative former owners who "frankensteined" parts from Tonkas or the like in order to produce a model that still was more or less capable of putting out imaginary fires.
So let's all pay homage to the 1964 Texaco fire truck, a vivid memory for Boomer kids. My plastic helmet is off to you.