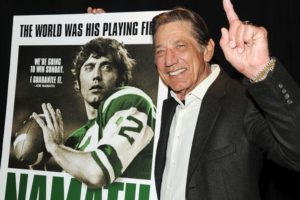 "The Jets will win on Sunday, I guarantee it."
Those words by Joe Willy Namath now ring in infamy. However, they are given just a tad too much emphasis.
You see, the words weren't spoken at a press conference. They were an off-the-cuff response to a Colts fan's heckling. And while they were recorded by a reporter, they weren't widely publicized until after Super Bowl III, when the Jets saved the concept of the Super Bowl by whipping the Colts. BTW, as I write this column, I offer a hearty congrats to the Colts, who are about to appear in their first Big Dance since 1971.
The AFL had been formed in 1959, the same year as Yours Truly ;-). The NFL didn't pay it a lot of mind. After all, it had managed to outlast feeble attempts to upset its monopoly on the gridiron three previous times, each time by American Football Leagues.
But this incarnation had staying power. Lawsuits were filed by both sides as they competed for the public's attention. The suits served the interest of the upstarts, getting them much-needed publicity.
Even though the NFL prevailed in court, a lucrative five year deal with NBC put the AFL on solid financial ground, and its popularity and profits continued to grow. By 1967, the NFL had quietly agreed to welcome the AFL teams under its oversight, forming National and American conferences that continue to exist today. And they also agreed to have a season-end showdown between the conference's champions. The Super Bowl seemed an appropriate moniker for such an auspicious event (although it didn't officially get the name until Joe's game).
But the first two matches were far from competitive. Green Bay, with Bart Starr at his peak, destroyed Kansas City and Oakland in the first two games. Public interest was dwindling. How could we ever sell thirty seconds of commercial time for two and a half million bucks at this rate?
Enter Broadway Joe. The Jets felt like they matched up well against Baltimore, who would later become an AFC team themselves, making rematches in the Super Bowl impossible. But on January 12, 1969, the impossible happened. The heavily favored Colts fell to the Jets 16-7.
The next year, interest was high as once again the AFC prevailed (no predictions from Len Dawson, though). Kansas City beat Minnesota, once again in an upset. And in 1971, Baltimore, now an AFC team themselves, beat Dallas. Three in a row for the upstarts! In fact, they led the series.
The Super Bowl would from then on be the most eagerly anticipated sports event each year, although sometimes merely for its commercials, in the case of the John Elway-led-Bronco shellackings of the 90's.
But we can all thank Broadway Joe Namath for putting the Super Bowl on the front burner.