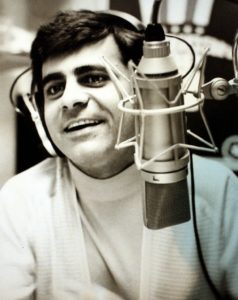 Thanks to popular demand (and please, keep your requests coming!), today's I Remember JFK memory is about a radio voice that is so familiar that it seems parodied, even when it's not: that of Casey Kasem.
I wasn't always a Kasem fan. That's because his rise as the voice of America's Top Forty coincided with the decline of my beloved AM rock and roll medium. It wasn't Casey's fault, but his packaged FM show hastened the death of WLS's rock and roll 100,000 watt voice, as well as that of other AM powerhouses.
But Casey couldn't be blamed for that, any more than airline magnate Howard Hughes could be blamed for the fact that you can no longer catch a passenger train to any town in the US with a population of 1,000 or more.
In fact, Mr. Kasem is an amazing story of just how ANYBODY can succeed in America. And he is also a nice part of the memories of Baby Boomers. And that makes him an essential cog in the I Remember JFK machinery. So Casey, this one's for you.
The story begins in Detroit, on the day of April 27, 1932. That was the day that Kermal Amin Kasem was born to his Lebanese-descended parents.
Casey, as he preferred to be called, was proud of his Arab-American lineage. But he also knew that he was a minority, and would therefore have to work hard to be accepted in the less-than-enlightened years in which he grew up.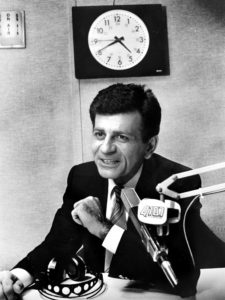 Kasem was blessed with a golden radio voice, and he went to work in the medium in short order. In 1952 he was drafted into the U.S. Army where he was a successful deejay for the Armed Forces Radio Korea Network.
When the "conflict" was over, he landed an on-air gig with Detroit station WJBK early in the 50's. He liked radio, and, like many successful DJ's, began moving to new locations across the nation as opportunities arose.
By the early 60's, he was jocking for Oakland station KEWB, and he was becoming known as a trivia specialist.
This was basically what his syndicated show would be about, and his American Top Forty debuted in 1970 as a presentation of what was hot, along with a little-known-factoid here and there to spice things up.
The show was a hit, and fledgling FM stations all over the country began syndicating it in droves during the Blow Dryer Decade. Soon, Kasem's perfect voice was heard coming out of wedge speakers in the rear decks of 60's era vehicles all over this great nation of ours every Sunday afternoon.
By the 80's, American Top Forty was huge business. Kasem cut his ties in 1988, only to give it another go in 1998. He continues to play a part with the show, even though he no longer does the talking.
Kasem also does extensive work promoting the importance of the work that Arab-Americans play in our society.
So here's to a self-made man who is also a part of our Boomer memory banks: One Casey Kasem.