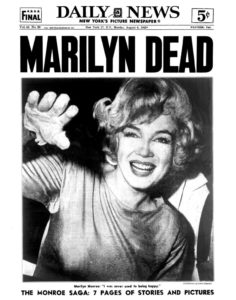 As I have stated repeatedly here, my first coherent memory was the death of JFK. However, many slightly older Boomers have have a similar photographic recollection of the death of renowned tortured soul Marilyn Monroe.
Starlets have handled their fame with various degrees of aptitude. Some, like Mae West, reveled in the attention, and couldn't get enough of it. Others, like Greta Garbo, felt the need to withdraw completely from public life. Then there are the tortured souls, who simply can't find a way to cope with stardom's steep cost.
Norma Jeane Mortensen never knew her father. She barely knew her mother, who spent her own tortured life in mental institutions. Her childhood homes consisted of California foster care facilities. And, sadly typical of foster homes, her young life was scarred by episodes of abuse.
In 1942, at the age of sixteen, she entered into an arranged marriage with James Dougherty. The plan was cooked up by her then-current foster mother, Grace Goddard, in order to keep Norma Jeane from yet another foster move, as Grace was about to move out of the state.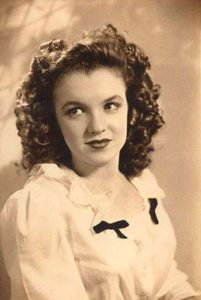 Predictably, the marriage didn't last. In the beginning, Norma Jeane enjoyed playing with the neighborhood children until her husband would call her home. As she matured into adulthood, she decided that she wanted more out of life. By 1946, she struck out on her own.
By then, she had dyed her brown hair platinum blonde, and was now successfully employed as a model. Ben Lyon, a 20th Century Fox executive, spotted her and offered her a screen test. She did well, and went to work under a six month, $125-per-week contract. She also changed her name to Marilyn Monroe.
Real stardom followed, and by 1952, she made her first appearance on the cover of Life magazine.
She was now the toast of Hollywood, but marital happiness proved elusive to the superstar. The Joe DiMaggio marriage lasted a mere nine months, and steely, intense Arthur Miller provided no emotional support for the fragile actress.
She turned to prescription drugs to ease the pain, and her personality began to be adversely affected. Her moods largely depended on what medications were coursing through her bloodstream at the moment.
Suffering from a severe sinus headache, Marilyn took some prescribed antibiotics and amphetamines shortly before an invited performance at the White House to wish President Kennedy a happy birthday. Appearing to be drunk, she caused a spectacle by half-whispering a seductive version of the song.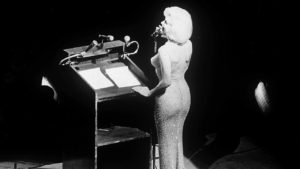 As had happened so many times in her life, the public perception of events didn't tell the whole story.
A couple of months later, Marilyn was found dead in her hotel room. The death was ruled to be an overdose of barbiturates.
Soon, the conspiracy theories flew through the air like filthy starlings heading for their sundown roost. What killed Marilyn? Was it a suicide? Cubans? Russians? Jimmy Hoffa?
Marilyn and Joe were to have been remarried. The despondent once-and-future groom had fresh roses placed at Marilyn's crypt thrice-weekly for the next twenty years.
Thus ended the tortured life of Norma Jeane Mortensen, aka Norma Jeane Baker, Norma Jeane Dougherty, and Marilyn Monroe. Her death, as depicted on the AMC series Mad Men, was a cause for deep national mourning.
Many point to JFK's assassination as the end of innocence for the 60's. However, a case could certainly be made that the demise of this fragile starlet over a year earlier was the real death knell for the carefree times that our prosperous parents had enjoyed after the end of WWII.