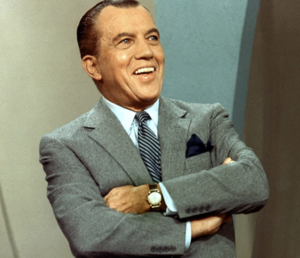 Once upon a time, Americans were entertained by vaudeville. Every town had at least one theater that might show silent movies and double up as a stage for live performances. Performers would travel from town to town doing their thing for small, eager audiences. Their specialties might be circus acts, music, dancing, comedy, stunts, acts of mental prowess, acrobatics, and in one unique case, a man who would swallow water followed by kerosene and regurgitate it onto a miniature building. The kerosene would come up first, setting the building on fire, followed by the water putting it out.
Small town America ate this stuff up. And even though vaudeville was killed by talkies in the 1930's, an entertainment columnist by the name of Ed Sullivan knew that there was still a market for it in the fledgling television market.
So on June 20, 1948, CBS gave him a chance to prove his point. He did, for twenty three years.
Originally called Toast of the Town, the show soon simply became known as Sullivan. It became a solid anchor for CBS to dominate Sunday nights for many years. And it also became a part of our culture, a show that literally had something to offer to everyone in the family, regardless of age.
Perhaps its ultimate genius can be summed up by this simple fact: it was one of a very few shows that my television-spurning father never missed.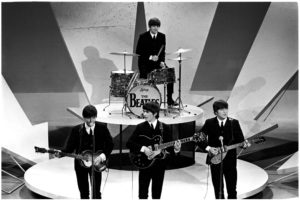 Ed was a man of fierce convictions. He fervently believed that entertainment should also be innocent, and ensured beforehand that any acts he booked knew that going in. If you crossed the line Ed drew in the sand, you were blacklisted.
In an unfortunate misunderstanding, that happened to comedian Jackie Mason. He was doing a comedic bite where he was flashing fingers. Ed thought he flashed THAT finger. He was barred from the show.
The footage of the bit exists, and it clearly shows that Mason never made an obscene gesture. But Ed thought he did, case closed. Mason went so far as to file a libel suit against Sullivan. A year an a half later, Mason was invited back and Ed publicly apologized. That placated Mason, who dropped the suit. But he still never appeared on the show again.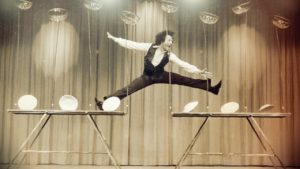 Mason's career took a hit. Ironically, the Doors used a similar situation to enhance their popularity.
Ed insisted that they not use the phrase "girl we couldn't get much higher" in singing Light My Fire. Jim Morrison tentatively agreed. Then once he started singing, he changed his mind. He looked Ed straight in the eye and sang the line intact. Ed glared back, and a legend was created. Doors fans loved it.
I still remember the hodgepodge of acts, including the plate spinning guy. He would spin about thirty plates at the ends of sticks, adding them and keeping them spinning one at a time. It was great fun, and when I get busy multitasking at work, I refer to it as "keeping all the plates spinning." The Boomers I work with know exactly what I'm talking about.
Sullivan was savvy enough to let the acts speak for themselves. He would give brief intros, then step back and let them do their thing. His stiff style and distinctive voice were much imitated by class clowns and professional impersonators alike.
He also featured black performers when it cost him advertising dollars to do so. Sullivan, who was aware of the prejudice received by his Irish ancestors, declared early on that the show would be open to all performers regardless of race or nationality.
It would be nice if the reality-TV obsessed networks would recall what a consistent success the Sullivan Show was. America still has a taste for vaudeville.