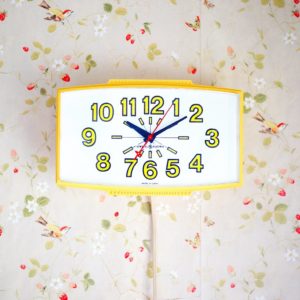 Among the subtle sounds that made up the ambiance of the home where I spent my early childhood was a gentle whirring noise. It was coming from the electric clock hanging up in our kitchen.
The electric wall clock was a staple in most homes during the 60's. Ideally, you wanted it to be hung in the middle of a wall. However, esthetics required that the cord hang straight down. Therefore, the clock resided directly above an electrical outlet.
While that cord stuck out like a sore thumb, it didn't take long for it to vanish. In fact, if the clock was replaced with a battery-driven model, it just didn't look right without a cord hanging down.
The clock made a whirring sound because it was driven by a rapidly-rotating motor. Seven-year-old me discovered this one day by taking the clock down and seeing for myself. And as the clock aged and bearing surfaces wore down, the whirring would turn into a more abrasive noise, which would eventually get so bad that it could no longer be ignored. The clock might even seize up.
But electric clocks were still preferable to battery-driven models. Most of the took a huge d-cell that just didn't last very long. It was a pain to change the battery every six months.
Today, like most of the objects we grew up with, genuine vintage electric clocks sell for big bucks. Atomic models like the one pictured that might have sold for twenty bucks in 1964 go for hundreds of dollars on the auction sites.
If you're into these motor-driven beauties, check out http://www.oaktreeent.com/vintage_clocks.htm
Here's to that gentle whirring sound that helped make our house a home.