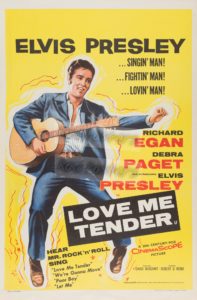 Colonel Tom Parker had quite a goldmine on his hands. He managed Elvis Presley, the most valuable commodity in the entertainment industry of the mid 1950's. Of course, even the most manipulative manager couldn't make his client do anything he didn't want to, at least not without getting him to sign contracts granting the power to do so. There was money in music, to be sure. But there was more money in movies.
It turned out that Elvis did want to act. And his talents included the ability to do so quite convincingly. And the first films that Parker convinced him to make looked like the best of all possible worlds was being reached. The films were good, the acting was challenging, and the songs that were performed were good stuff.
However, the job satisfaction of his client and the commitment to artistic quality were not very high on Parker's agenda. So after a promising start, Elvis's acting career went downhill, quality-wise. Unfortunately for him, it would continue belching smoke until 1969.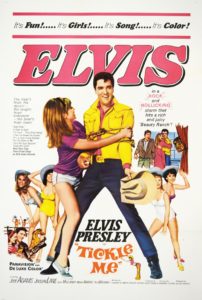 The first four movies that Elvis made, beginning in 1956, were Love Me Tender, Loving You, Jailhouse Rock, and King Creole. They were critical and financial successes. Elvis's musical career didn't suffer a bit, as the films garnered several hits, including the title tracks, as well as Teddy Bear, Mean Woman Blues, Hard Headed Woman, Trouble, and New Orleans. Elvis himself was happy with his roles, even if not starring.
A comment by producer Hal Wallis, who handled two of the films, would have ominous overtones about where this was all heading: "An Elvis Presley picture is the only sure thing in Hollwood."
Parker and Wallis hit it off. He was given the job of producing many of the next 27 films that would be churned out on a frequent basis during the 60's, only a couple of which would be recognized as approaching the quality of these first four. Many of the others called upon to produce the other films were journeymen who were delighted to get the work, or perhaps former greats who were past their prime and looking to make some bucks like the old days. Either way, artistic quality in serious danger of being tossed aside, and usually was.
Parker would delight in the easy revenue from the quickie films, and managed to get Elvis on board with it, even though the King for the most part despised what he was doing.
Elvis's next film, 1960's G.I. Blues, typified what was happening. Elvis found himself surrounded by cute babies, cute puppets, and a razor-thin plot. But a return to glory took place with Flaming Star, released that same year. Based on a novel by western storyteller Clint Huffaker, the film tackled racial prejudice head-on in the tale of half-breed Pacer Burton, played by the King.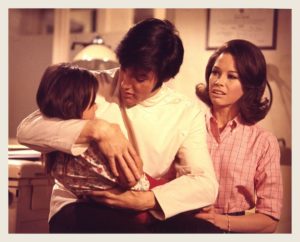 The next bright spot was 1964's Viva Las Vegas. Co starring Anne-Margaret, it's a tale about a kid with big ideas by the name of Lucky Jackson who blows into town with the idea of winning the Las Vegas Grand Prix. The cinematography was better than average, and the music worked, too. All in all, a success, as far as critics and Elvis himself were concerned.
What followed was more bad but profitable stuff. In 1969, Elvis made his final film as an actor. Change of Habit paired him with Mary Tyler Moore, ready to move on from her portrayal of Laura Petrie. Despite a shallow plot typical to the Elvis films of the 60's, there was good chemistry between the King and MTM. Elvis even got to play the type of part he craved, a straight role as an inner-city doctor.
However, with the movie's release, the era of Elvis the Actor officially ended. He had previously garnered an excellent reaction to his 1968 live comeback special, Elvis, and saw the light. Ironically, he had to buck Parker (something he very seldom did) to get the TV show made his way. Elvis would spend the rest of his post-film career performing live, particularly in Vegas, and releasing albums based on their own merit, rather than as hastily-recorded movie soundtracks.
Unfortunately, the era of Elvis, the Prescription Drug Abuser, was about to begin, which would greatly damage his creativity.
What kind of musical heights could Presley have reached in the 60's had he been concentrating on music, instead of spending his time filming three- and four-a-year stinkers like Fun In Acapulco, Tickle Me, and Charro!? Sadly, the world will never know. But at least Colonel Parker died a wealthy man.