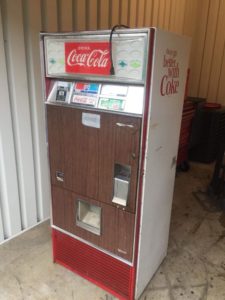 Ah, the love/hate relationship that we have with vending machines. on the one hand, it's pleasant not to deal with a surly convenience store clerk behind bulletproof glass, on the other, getting ripped off involves taking on a machine weighing much more than one's self, with possibly disastrous results.
But by and large, with the exception of manhandling larcenous machines, the experience of popping in currency and retrieving merchandise has gotten much more mechanized than when we Boomer kids were, well, kids.
For instance, a vending machine typically has rows of chips, candy bars, etc. behind glass with corkscrew mechanisms that operate when you push buttons. You hear a little whir, your prize drops, you walk away.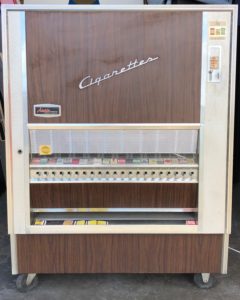 But flash back to 1964, and vending machines involved muscle power. One of the experiences that I recall the most clearly was getting cigarettes for dad. I would drop two quarters into the machine, locate Philip Morris Filters, and pull the knob underneath them with a mighty jerk. One pack of coffin nails would obediently drop into the tray below for retrieval.
There was a yellow warning sign on the front that announced the illegalities of minors operating the machinery. That didn't concern me a bit. Though we had lead and zinc mines in the area, I most assuredly didn't work at them.
I was a bit confused as to why those who dug up minerals and metals for a living should be forbidden from buying cigarettes from a machine. Probably something to do with their lungs being exposed to dust, my seven-year-old mind reasoned.
Candy machines required a similar hard tug to get to the sugar-sweetened delights within, to be retrieved at the cost of a dime. I know that I paid a nickel for a Pay-Day at the corner grocery, I don't recall ever seeing a vended candy bar for less than ten cents. In fact, one of the first lessons that a kid learned about life was that you only had one shot at your favorite treat once that dime went in the slot, and you'd better give the handle a hefty tug. It was tragically possible to pull a handle out only part way, so that you lost your ten-cent credit AND walked away empty-handed.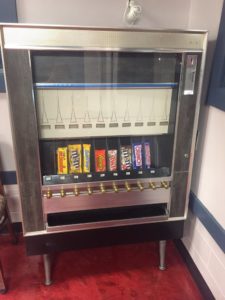 However, school troublemakers also delighted in spreading accounts of how you could pull TWO handles at precisely the same time and get two candy bars for the price! I actually saw it happen, and even did it myself a time or two. However, you would walk away empty-handed enough to where I believe the odds were, just like at Vegas, in the house's favor.
The illustrated Coke machine shows that once you bought your can of pop, you still had work to do. You had to place the steel container underneath that opener and shove down with all of your might to place a triangular hole at the edge of the can, then rotate it 180 degrees and do it again.
I wonder how often that cutting blade was washed?
Dad's old nickel Coke machine required work, as well. It had a big handle that turned the internal mechanism to align a Coke bottle up with the opening so that it could be removed by an eager kid.
So the next time you put a ten-dollar-bill in a vending machine and get your sandwich accompanied by a rain of dollar coins in the change tray, think back to when you were a kid, and recall when vending machines required strength and dexterity to operate. And maybe, just MAYBE, you could get two items for the price of one!