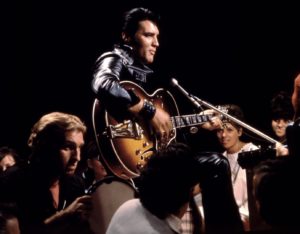 Regular readers of I Remember JFK know where I stand on the subject of Elvis. He had as much performing talent as any one individual who was ever born, but unfortunately, he also had the naiveté to put his trust in a manipulative individual who saw nothing but dollar signs as far as his client was concerned. The result was that Colonel Tom Parker stifled the man's talent to an extent that we may never know. During most of the 60's, instead of recording more and more great rock and roll like he cranked out during the 50's, he was in movie studios. Disposable, forgettable dreck was the overwhelming result. Each bad movie came out with a bad soundtrack. Lots of money was made, but untold quantities of God-given talent was tragically, permanently wasted.
But in late 1968, Elvis, backed by TV producer Steve Binder, dug in his heels against Parker and starred in a December NBC special that reminded the world of what all of the excitement was about ten years earlier.
Parker wanted Elvis singing Christmas tunes. Binder, who had previously stood up to Chrysler over Petula Clark touching Harry Belafonte's arm during a duet on her own 1968 special (Chrysler didn't feel the world was ready for a white woman to touch a black man on broadcast TV), was not intimidated by Elvis's doltish manager. The result was one of television's greatest moments, and a revitalization of the King's career.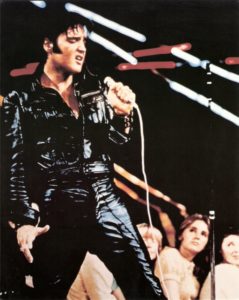 The special consisted of staged songs on a set intermixed with live recordings.
There was all sorts of controversy. For example, one song was to be performed in a bordello! The network squawked, Binder held, and the scene was included.
Surprisingly, one of the strongest voices against the live segments was that of Elvis himself. His last live appearance, thanks to his Hollywood-obsessed manager, was in 1961. The Tupelo, Mississippi-born kid had stage fright after years of performing in front of movie crews instead of screaming fans.
Again, Binder stuck to his guns, and Elvis was convinced to get behind a microphone before applauding fans.
Thus, that summer, the King sat down on a Burbank stage before four different audiences in four different sessions, and history was made. Live performances would comprise the bulk of the rest of his career, definitely a positive move for the man and (sigh) unfortunately, the manager, too.
Elvis quickly got over his stage fright. Only a small portion of the live scenes were used in the show, but they had an impact. Plus, bootlegs were leaked onto the market of the four sessions. The lucky ones who got their hands on the boots were blown away by this man who had captured the imaginations of their parents and older siblings.
And fortunately, for us old goats, you can now obtain the four-CD set of the Comeback Sessions on the legal market. You can feel the passion of this man who was born to put soul into music finally getting his wish after so many years.
The next year, Elvis released an album in keeping with his newfound spirit. From Elvis in Memphis put the wasteland of the 60's far, far behind. The man who had been coerced into taping stuff like Girls! Girls! Girls! was now belting out an R&B classic (Any Day Now), country fare (I'm Movin' On, a harbinger of his future career path), and bold social commentary (In the Ghetto).
From Elvis in Memphis was justifiably given a place as one of the 500 greatest rock and roll albums ever created in the opinion of Rolling Stone magazine. I strongly agree.
Elvis was taken from us at too young an age, but how wonderful that his later career received a shot in the arm thanks to him and gutsy TV producer Steve Binder standing up to Colonel Tom Parker in 1968, and turning what was supposed to be 90 minutes of Christmas songs into a public reminder of just how much talent the King possessed.