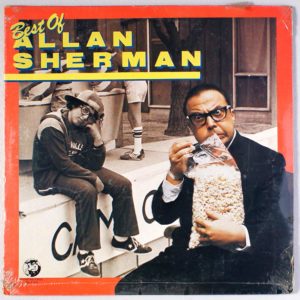 The incredible animation/musical extravaganza Fantasia was released in 1940. Among the classical songs performed was Ponchielli's Dance of the Hours. The dancing ostriches, hippos, and other cartoon fauna to the catchy tune made many a youngster a fan of the song.
One grownup noticed the potential of the timeless tune for possibly the greatest gag song ever written.
Allan Sherman was a familiar figure behind the scenes in Hollywood. He created and produced I've Got a Secret, a familiar show to us Boomers. At least he did until 1958, when he was unceremoniously dumped from the series.
Sherman didn't let it get him down, though. Instead, he started freelancing in a completely different direction.
He loved producing silly song parodies just for kicks. And soon, friends in high places noticed. Well-connected in Hollywood, Sherman was encouraged by pals like Harpo Marx and George Burns to get a recording contract.
Friends with clout like his soon arranged it, and he recorded a well-received album called My Son, the Folk Singer in 1962. More than anything else, he lampooned his own Jewishness, and it was hilarious.
The next year, he wrote a ditty to be sung to the tune of Ponchielli's masterpiece. It reached number two on the charts. And the definitive novelty song became a part of history.
Afterwards, anyone who would dare record a funny song, from Ray Stevens to Weird Al, would face having their work being compared to the greatest of all, Camp Granada. Needless to say, Dr. Demento noticed it, and gave it new life. In fact, the song overshadows many other great novelties that were hits for Sherman. This guy was no one-hit-wonder, make no mistake.
It's just another great little thing about being a Baby Boomer, remembering when Camp Granada was originally hot on the charts.