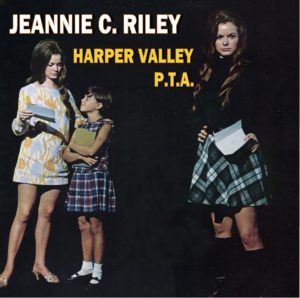 September 1968 was a time of unequalled tension in the US. Our fathers, brothers, sons, and friends were dying in Vietnam. We had endured the spring and summer assassinations of Martin Luther King and Bobby Kennedy. LBJ had thrown in the towel. The Democratic national convention was marred by a massive, heavily televised riot.
It seemed like everyone was either killing, dying, or otherwise wreaking havoc, regardless of where they stood on any issues. Just who were the bad guys, anyway?
Songwriter extraordinaire Tom T. Hall, and beautiful, no-nonsense-voiced Jeannie C. Reilly let us know in no uncertain terms who the enemy truly was: self-righteous hypocrites.
It was just what we needed. The combined efforts of the two talents provided us with Harper Valley PTA, one of the most recognizable songs in history, and a crossover hit that made it to #1 on both the pop and country charts.
Tom T. Hall Was born in 1936. Despite his musical and songwriting talent, he was working as a deejay in 1963. His break came when Jimmy C. Newman recorded one of his songs, DJ for a Day. Soon, all of the big names lined up wanting Hall to pen tunes for them, including Johnny Cash, Loretta Lynn, George Jones, Waylon Jennings, and others.
By 1968, Hall was a success in recording as well. He sought out a female to sing his song about a single mom's struggles with a certain PTA. Margie Singleton was the first to record the song, which had middling sales. Jeannie C. Reilly took another shot at it, and the beautiful singer, complete with Nancy Sinatra-esque go-go boots and miniskirt, became a national sensation.
While Reilly may have been considered a one-hit-wonder on the pop charts (her next highest hit was her next one, The Girl Most Likely, which reached #55), she had a very nice lucrative career in country music.
In 1972, she switched to gospel as part of a personal religious awakening. She cut gospel albums until 1995. Now she is still around, but kicking back at home. (update: she died in 2006)
Harper Valley PTA also inspired a movie and a television series starring Barbara Eden, showing the beautiful actress could still do her thing in her 40's.
So throughout the utter turmoil that was 1968, it's nice to know that the true enemy to society was revealed: the members of the Harper Valley PTA who were known to live their own sleazy lives whilst looking down their noses at others.