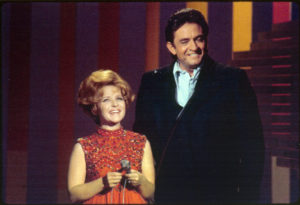 "Hello. I'm Johnny Cash."
Those words opened an amazing variety show that shined brightly for three short years, from 1969 to 1971. My parents were both fanatics of the show, even though neither particularly cared for country music. Every Saturday night, Cash would grumble his intro and launch into the opening riffs of Folsom Prison Blues.
Cash's show was appealing to all sorts of folks. The fact is that he was simply a master entertainer who could hold the attention of virtually any generation. I was a nine-year old kid who can still vividly remember his regular bits, including "Come Along and Ride This Train," his gospel sings, and his nightly duets with June. I also remember the night he proudly introduced John Carter Cash, just born.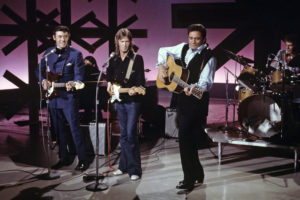 Johnny had some familiar country/rocakabilly faces on regularly, including the Statler Brothers (who later had a pretty good song themselves called "Kids of the Baby Boom"), Kris Kristofferson, and Carl Perkins.
He also featured acts that were distinctively NOT country musicians. Gordon Lightfoot, The Guess Who, Bob Dylan, Neil Young, Melanie, Mama Cass, and Linda Ronstadt were on there strutting their stuff. Dylan would record a foray into country music about this time with Johnny's help, Nashville Skyline.
Johnny could have been just another country hitmaker, and he certainly could have been great at it. But he elected to stay in touch with musical styles that would appeal to many others, including blues, gospel, rocakabilly, and even a spoken comedy hit, "A Boy Named Sue."
Cash, the man, was an amazing human. He managed to overcome addictions that could have killed him, he kept on producing cutting-edge music right up until his death, and he promoted prison reform when it was unpopular. He also masterminded a great TV show. It might have lasted many seasons, unfortunately ABC pulled the plug on it over Cash's ignoring their desires for its focus.
Oh well, as his friend Neil Young said, it's better to burn out than it is to rust.