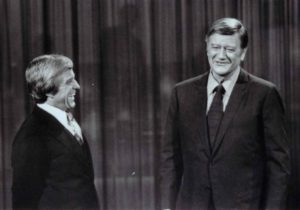 On July 6, 1925, a baby boy was born in San Mateo, California. He was christened Mervin Edward Griffin Jr., but was soon known as just plain Merv. Precocious as a child, he was "publishing" his own single-page newspaper as a seven-year-old.
The chunky Merv wanted to be a singer, and at the age of 19 was performing on a national radio show called San Francisco Sketchbook. However, his live appearances often prompted laughter by audience members who discovered that the silky-voiced singer was quite overweight. Griffin, stung by the jibes, lost 80 pounds.
The slimmer, trimmer Merv landed a singing gig with big band leader Freddy Martin.
Griffin's singing success and business acumen eventually led to his own recording label, Panda Records. He scored a hit in the 50's with I've Got a Lovely Bunch of Coconuts, hitting Number 1.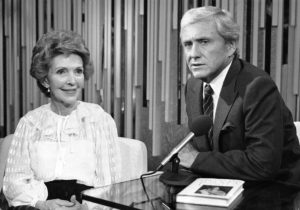 Doris Day spotted the handsome young singer and offered him a screen test. He ended up with quite a few film roles, including one where he delivered Hollywood's first open-mouthed kiss in 1953's So This Is Love.
But the multi-talented Griffin still hadn't found his perfect niche.
In 1958, Merv hosted a game show called Play Your Hunch. It lasted for four years. One day, Jack Paar stumbled onto the set accidentally during a live broadcast. Merv talked him into staying on for an impromptu interview. Paar complied, and was so impressed with the self-assured host that he offered him a substitute host gig on Paar's Tonight Show. He was a natural for the talk show host role.
In 1962, NBC launched The Merv Griffin Show, a daytime talk format. While initial ratings were strong, they soon fell. The show was gone within a year.
Undaunted, Griffin launched a syndicated version of a talk show featuring himself as host in 1965. It was picked up by stations in great numbers, and he was soon a familiar face on local stations at all hours of the day or night. It was a success that appeared more-or-less regularly until 1986.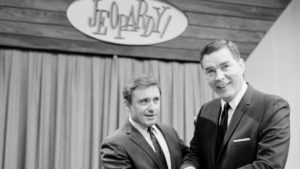 Griffin wasn't averse to plying his guests with complimentary cocktails before their appearances. The lubricated, tongue-loosened guests were then interviewed by Griffin, with lots of laughs and spontaneous confessions to accompany.
Merv never forgot his game show roots, and talked NBC execs into trying an unconventional format which he had envisioned. A contestant would select a question with a dollar value attached. An answer would be read. The first contestant to buzz in would ask a question. And, if the wrong question was asked, they would be penalized the dollar amount!
Of course, you recognize the premise as that of Jeopardy!, still hugely popular well over thirty years since its debut. No slouch at game show creation, he also launched Wheel of Fortune in 1975, and it's still a big hit.
Griffin was a success in show business, in business in general, and as a nice person by account of friends and acquaintances. His estimated worth at his untimely death from prostate cancer on August 12, 2007, was over a billion dollars.
A good example of his business smarts: He decided Jeopardy! needed a little ditty to play while contestants scrawled out their Final Jeopardy answers. So he composed the familiar waiting tune sitting at a piano in about a half hour. He retained rights to the song, even after he sold the show. He estimated the song made him 70-80 million dollars.
Atta boy, Merv. Rest in peace, old friend.