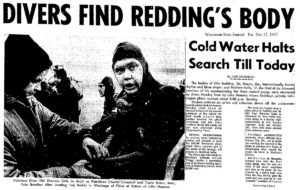 It's a bit sad that death is so much a part of our Boomer memories. We learned at a very early age that famous people die. We also learned, through the Vietnam war, that loved ones die. And as we kids grew up listening to and loving rock and roll music, we likewise learned that the makers of that music die.
Airplane crashes have taken many musical stars from us. The first one to shake up the world of the newly-invented genre of rock and roll was the one that took Buddy Holly, Richie Valens, and The Big Bopper in 1959. Nine years later, Otis Redding took off in his own plane (his manager was the pilot) and ended up losing his life in an icy lake near Madison, Wisconsin. Thus was the world robbed of a rising star who had redefined soul music, and had in fact taken on the title of the King of Soul.
Otis was a clean-living family man who was raised in Georgia, and who never left his roots. However, the deaths that would soon follow would show the world that rock and roll music had transformed from innocence to worldliness as its participants found themselves at risk from deaths from decidedly hedonistic causes.
The victims were young people who found themselves thrust into the bright spotlight and simply had problems handling all of the success. While they struggled, they produced some of the most beautiful and prized art that the world has ever seen, art in the form of music.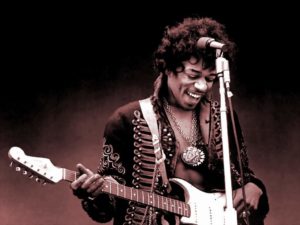 Jimi Hendrix was born in Seattle, Washington in 1942. His father, a WWII veteran, instilled strong family values in him. Jimi got into some trouble later on, riding in a couple of stolen cars, and chose enlisting in the army over going to jail. He served for a year with the 101st Airborne Division, then left after (his own account) breaking his ankle and sustaining back injuries. Others claim that he was discharged for being an ineffective soldier. Hendrix bounced around for a while until Animals bassist Chas Chandler suggested he give England a try. Hendrix was practically an overnight success in Europe, and came back to the US triumphantly as leader of The Jimi Hendrix Experience.
The pressures of success, touring, and being in the public eye caused him to seek relief through alcohol and drugs. He kept things finely balanced for a time, generally appearing onstage sober enough to dazzle audiences with his talent, but eventually he overdosed in London on September 17, 1970, and the world lost the greatest guitarist in history.
In the meantime, a soulful blues singer by the name of Janis Joplin had been climbing the ladder of success. Born in 1943 in Port Arthur, Texas, she grew up listening to records of blues singers like Bessie Smith and Leadbelly, and soon found herself a social outcast for her liberal views on race relations, as well as her fascination with art, poetry, and reading, things that went against the grain of Texas teens in the 1950's.
Janis was a rebel, and she began living her life in a self-destructive manner, similar to many of the blues artists she held in high regard. She was soon washing down speed with Southern Comfort, and by 1965, had a full-fledged addiction problem.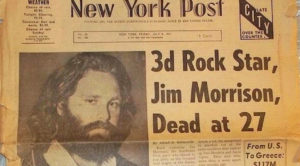 But she was also pouring out some of the most soulful music ever heard, and her popularity rose. She moved to San Francisco and joined a group called Big Brother and the Holding Company. While in the group, she developed a taste for heroin.
She would succeed in weaning herself off of the hardest drugs for a time, then once again succumb to temptation. Finally, just a couple of weeks after Jimi's death, she overdosed on heroin and died.
According to the book No One Here Gets Out Alive, when Jim Morrison heard that Janis had passed, he told friends "You're drinking with #3."
Morrison was born in 1943 in Melbourne, Florida. Similar to Janis, he was tortured by personal demons at an early age. His father was in the military, and as a result Jim lived all over the country. He ended up graduating college from UCLA, and in 1965 formed The Doors. The group was successful from the start, playing Sunset Boulevard clubs like the Whisky a Go Go, and were soon selling hundreds of thousands of records.
As the group's success rose, Morrison's excesses followed along. Unlike Jimi Hendrix, Morrison would frequently be stoned or drunk during onstage performances, forcing the band to improvise around his inability to perform. On one particularly out-of-control evening in Miami, Florida, Morrison was arrested for indecent exposure onstage. The evidence was sketchy, and the case was never tried, but for a sinister reason.
On July 3, 1971, Jim's alleged prophecy came true, and he died in a bathtub in Paris. Jimi, Janis, and Jim had all died at the age of 27.
They were the Big Three, but others also passed about this time. Brian Jones' excesses had gotten him booted from the Rolling Stones, and he died soon afterwards (at the age of 27) in July, 1969. On October 29, 1971, Duane Allman, the undisputed top guitar player in the world after Jimi's passing, died when a truck stopped abruptly in front of his Harley Sportster. Besides being a younger 24 years old, Duane was also not known for the same excesses in drugs and alcohol that had decimated the ranks of talent during this time. His death was simply a tragic accident.
Thus ended a very bad streak. Other musicians would die during the decade, including Keith Moon, John Bonham, and Bon Scott (actually he died in February 1980), but the stretch of years from 1967 to 1971 would be sadly remembered as a great thinning of the ranks of some of the greatest musical talent the world has ever known.
Rock and Roll Heaven must have a hell of a band.