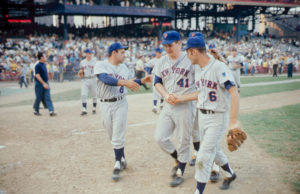 Mets fans are still seething that my beloved St. Louis Cardinals, tripping and stumbling down the stretch, managed to get their act together in time to knock a very strong team out of the 2006 World Series. But happier memories exist for fans of the Metropolitan Baseball Club of New York, as they are formerly known.
New York fans were shafted by the greedy owners of the Dodgers and Giants in 1957. It was shocking that in one year, New York went from having two NL teams to having none.
In 1962, the Mets began playing. Rather than going for young talent, their GM went for older, more well known players (many of them former players for the three NY teams) who were past their prime. His ineptitude seemed to filter down to the players and coaches. Casey Stengel led them to an inaugural 40-120 record.
While fans embraced their lovable losers, by 1968 it was starting to get old. Once they traded a player to be named later to Cleveland for catcher Harry Chiti. The player to be named later ended up being Chiti, sent back to Cleveland. Funny, weird, inept stuff.
But new GM Johnny Murphy started getting some actual talent together. New manager and former player Gil Hodges was hired in '68, and recently acquired Tom Seaver, Jerry Koosman, Tommy Agee, Bud Harrelson, Jerry Grote, and Cleon Jones began performing above and beyond their expectations. The '68 Mets had their best finish ever, but it was still 16 games below .500.
1969 saw them starting slowly, then surging. By the end of the season they had an incredible 100 wins! However, they still weren't in that magical World Series. Baseball had introduced divisional playoffs that year, and they had to beat Hank Aaron and the Braves first.
No prob, they swept them in three.
What followed was one of the most amazing, lopsided defeats of a highly favored Baltimore team that put the entire nation into ecstasy. EVERYBODY loved the Amazin' Mets, and they showed up on everything from game shows to Sullivan afterward.
The Mets had more success, but not such that captured the whole nation. In fact, the high-fiving, coke snorting 1986 team was reviled by most outside of NY. But that 1969 team was the original America's Team.